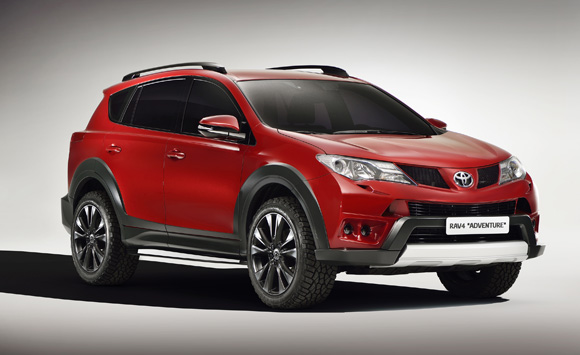 Toyota has revealed two RAV4 concept cars at the 2013 Geneva Motor Show designed to show off two very different sides to the new model's character.
The Toyota RAV4 Premium and Toyota RAV4 Adventure are studies into two different aspects of the new SUV's appeal.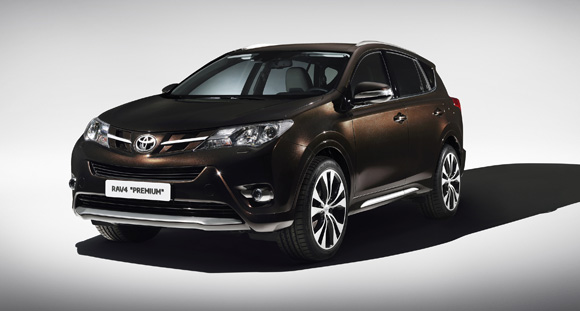 The RAV4 Premium design study has been developed to give the new model added sophistication. Both the bodywork and bumpers are finished in Deep Bronze to increase the sense of harmony in the design. At the front a central grille displays horizontal lines and air intakes, while the LED lights are underscored by a stylish chrome-finished spoiler. At the rear the redesigned bumper gains chrome inserts, brushed aluminium skid plates and an integrated tailpipe design. The 20-inch alloys are matched to the aluminium roof rails to add coherency to the look.
Toyota's Kansei design department, part of its R&D operation in Brussels, was responsible for the luxurious leather upholstery in the cabin. New black piping and a V-shaped outline reinforce the design of the seats, and the use of two-tone double stitching in several areas expresses both robustness and premium quality. Grey and black leather are also used for the instrument and door panels.
Meanwhile, the design thinking behind the RAV4 Adventure is to accentuate the car's look to reinforce its off-road capabilities.
A striking dark red paint brings out the strong, athletic qualities of the third generation RAV4's exterior, its muscular appearance heightened by the addition of extended wheel arches that accommodate larger 20-inch alloy wheels.
The front and rear bumpers have been redesigned and finished with matt paint. At the front the bumper integrates with a new under-run, while at the rear the redesign allows for fully integrated twin exhaust pipes and a reworked skid place.
Machined roof rails and dark-tinted privacy glass complete the Adventure look.
Read our other RAV4 posts here, or see all of our Geneva motor show coverage here.