If you've been reading for a while, you might know that in January we took the Toyota iQ for a 500-mile drive on a seven-gallon tank of petrol.This time we're going even further on our 2009 Toyota Prius test drive around the country. Today I picked up a beautiful new Prius T Spirit – so new in fact it had just eight miles on the clock – and drove it back from High Wycombe to Brighton.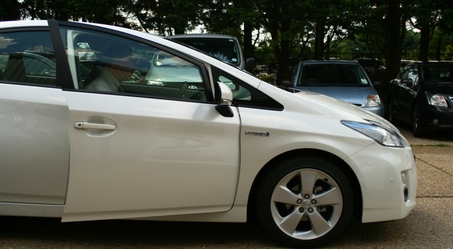 You might have read the press reviews of the car, but now it is time for us to test it. Tomorrow, I set out on a route that's yet to be fully decided, but which I hope will take me the length of England, into southern Scotland, and back down into the furthest reaches of Wales before I head back to Brighton – a round trip of more than 1,000 miles.
As I go, I hope to drop in on some of the people who said they couldn't make it to see the car when it appears at the Bullring, Trafford Centre and Bluewater. So far, seven of the 15 people we've contacted are on our route.
This time, with a range of around 699 miles (our car has 17-inch wheels, giving it a claimed combined consumption of 70.6mpg), we won't be able to do it all on one tank of petrol, but we'll be driving as efficiently as possible. Things got off to a great start today – in 83 miles of mostly motorway driving I managed 77.5mpg!
2009 Toyota Prius test drive – day one
We've completed day one of our marathon drive around the UK in the new Prius, and after repairing to the hotel for food and a brief rest, it's time for a proper update.
We've had a fantastic day. It started in Brighton on the south coast, where I had to park our third-generation Prius – one of perhaps 20 or so in the country – in the same space where I managed to hurt the second-generation car we had recently. Fortunately, manoeuvres before and after Paul applied graphics to the car passed without incident.
With the Prius looking better than ever, it was off to collect Alex from Toyota GB HQ in Epsom so our trip could get properly underway. There, a small crowd of eager onlookers quickly gathered to see the Prius and wave us off on the way to our first rendezvous. Some 60.4 miles from Epsom, and with a trip average of an amazing 83.7mpg on the computer, we arrived at the house of Lionel and Elizabeth Pryor.
Lionel, pictured here with Elizabeth on the forecourt at Lookers Toyota Rayleigh, bought his current T-Spirit about a year ago, and has left us several comments over the past couple of weeks. As we talked over the controls in the hot afternoon sun, I was glad of one of the Prius' many party tricks – running the air conditioning from the hybrid battery without the engine having to start.
Once on the move, we chatted about his current car and his impressions of the new one while we explored the Prius' driving modes, but before long we had to leave Essex for our next appointment in Norwich. Over 14.2 miles, Lionel averaged 19 mph, with fuel economy of 60.2 mpg.
Taking the wheel for the first time as we headed off to Norwich, Alex soon became worried that he wasn't driving efficiently enough – with the Prius reporting 'only' 55mpg or so after his first few miles.
I pointed out that the hills and bends as we left Rochford made it tricky to drive efficiently, and sure enough Alex needn't have worried. By the time we were approaching Norwich to meet up with Hamza, Tony, their friends and the kind staff of Dingles Toyota, Alex was well above 70mpg.
By this point, we had other things to worry about, though. Traffic, diversions and our own over-optimism when planning the route had us arriving almost an hour late at Dingles.
While the patient crowd got their first look at the car, I noted down the figures for Alex's first ever drive of the new Prius: he'd managed 74.9 in some rotten traffic – a great job.
Although the day had already been long, we weren't in too much of a rush to leave. While Alex accompanied Tony, Hamza and friend on a drive in the car, I stayed behind with Dingles sales director Simon Brydon – as excited about the car as the rest of us. Though the hotel beckoned, I tentatively offered him a blast in the Prius. I didn't need to ask twice.
Tomorrow we set out early for one of the longest single legs we'll be attempting; the five-hour, 250-mile journey from Norwich to Washington, Tyne and Wear. With that in mind, and with a long day behind us, it's time to get some sleep.
2009 Toyota Prius test drive – day two
Yesterday we thought we'd done well to cover 254 miles and give three people a test drive, but today (Saturday) started with a 293-mile trip from Norwich to Washington, Tyne and Wear.
To tell the truth, we had a bit of a jolt when we fed our destination into the sat nav and found that the journey was some 50 miles longer than expected, but we were soon on the road and making good time. I was at the wheel for the first stint, and no matter how I tried I wasn't able to match the best fuel economy of the day before.
After 162 miles with an average speed of 50mph, I turned in 72.5mpg – a figure I would have been thrilled with in almost any other car, but I knew the Prius could do better and felt like I was letting us down.
Alex was soon at the wheel and showing me how it was done, nudging an average 80mpg for a time on the A1(M).
As you can see, we were beginning to run low on fuel, and after 637.3 miles we decided to fill up rather than risk running dry. At this point, I realised that 40-odd litres of unleaded that had got us all this way had cost only around £15 more than my train ticket from Brighton to High Wycome when I picked the Prius up.
Alex ended his 132-mile stint with a higher average speed (54) than I'd managed, and an impressive average consumption of 77.4mpg, but now it was time to let someone else have a go. We'd arrived at the house of Adam and Claire Moss.
Alex and I were barely able to hide our jealousy as Adam – who's been weighing up the Prius against a couple of other contenders for his next car – got to have a blast in Power mode. We struggled to find the right spot for a demonstration of the Prius' parking assist, but after 15 miles of driving Adam had managed 51.4 mpg, and we were all smiling.
Before heading off to meet Ray Pockers in Hartlepool, we just had time to drop in on local centre Minories Wearside and give them a look at the new Prius. Two of the team there had seen the car at an event in Baden Baden, but it was great to give Darren and others a look before the arrival of their demonstrator.
In the event, we managed to get to Ray slightly ahead of schedule, and were able to spend a very enjoyable hour or so talking over the new car and showing off its features as we received a local's tour of Hartlepool. While Ray pointed out HMS Trincomalee and took us past the lighthouse, we were able to offer fully-electric EV mode and a successful, if slightly unpolished, demonstration of the two parking assist modes.
It's been another long day, and while tomorrow looks like easier going we'll be covering another 200+ miles before we arrive in Glasgow. We're pretty tired, but we're both having a great time, and it's all worth it to drive the car and to get comments like those we've had from Tony, Hamza, Adam and from Lionel.
They're all much appreciated, but today we'll leave the last word to Ray:
2009 Toyota Prius test drive – day three
It's the end of day three of our marathon trip, the first two days of which saw us stopping in Rochford (Essex), Norwich, Washington (Tyne & Wear), and Sunderland, before spending Saturday night in Hartlepool.
Despite yesterday's 1.15 bedtime, this morning we were on the road just after 9am, backtracking south to Northallerton, North Yorkshire, and a meeting with Peter – a confirmed Prius fan.
In glorious sunshine we spent a happy hour or so driving literally up hill and down dale with Peter and wife Caroline, managing to spook a crowd of walkers by lapping the quiet square of a market town in the car's almost silent EV mode. After a while, it was back into town for a rendevous with local centre RMB Toyota (Northallerton), who know Peter well.
I'll leave it to Peter to tell you what he thought of the Prius, but among the highlights for him were the car's head-up display and Smart Entry systems.
Next up was another backtrack, this time north to RMB Toyota (Teesside) who we weren't able to fit in as planned yesterday. There we met business manager Paul Roots, Martin Allen and Michael, and were able to oblige with a spontaneous test drive for a couple who just happened to arrive at the right time. After a quick call on the neighbouring Lexus dealer, Alex was behind the wheel for our trip to Glasgow.
With Alex due to return to Toyota head office tomorrow, I thought he might appreciate the chance to stay at the Prius' wheel for all of the 187.9 miles we were about to tackle, but it turned out to be the most challenging stint to date.
As we drove the A66 east, the country gathered itself into the Pennines, and the clouds gathered into slight, steady and then epic rain. While the Prius wasn't bothered, the standing water and spray made economical driving a bigger challenge. At least it also made for some fantastic photos.
Things had cleared up by the time we turned onto the A6 and headed north, and picked up further when we managed to stop for a late lunch – before we could get it, Alex amused himself with the reverse Parking Assist.
The next 50 miles or so passed with nothing more remarkable than an oft-swerving lorry to look out for, before – now on the A74(M), north of Lockerbie – we begun a relentless climb, and the heavens opened again. At one point, wondering when the climb would ever stop, we realised our average economy for the stint had dropped to 'just' 66.4mpg. By the time we rolled into Glasgow, after a shorter and much less tiring day, Alex had managed 69.3mpg and an average speed of 47mph.
Yesterday, the scale of what we're doing began to dawn on me. Tonight the Prius' mileage since leaving Brighton just ticked past the 1,000 mark – having reached 1,000.6 miles by the time we'd parked for the night.
The two of us, and the seven other drivers who've taken the wheel, have averaged 36mph and 71.6mpg so far. With Liverpool and south west Wales still to go, I think we may have another 1,000 miles before our journey ends – it's a good job we're having fun.
How day four unfolded
Well, that was quite a day. On Sunday night we managed to relax for the first time since leaving the south coast, and on Monday morning we even had a lie in. But on our way to meet Mark, motorway signs started warning of bad weather to come.
We weren't sure it was possible to see worse rain than we drove through on Sunday on the way up to Glasgow, but when the heavens opened this time it was like nothing we'd ever seen. We drew up at Mark's house where the downpour had created flash flooding, and forced something of a Mexican standoff – Alex and me too scared to make the dash to the front door, and Mark not fancying a sprint to the Prius.
Even when the rain finally eased off and we ventured out, there was chaos, with another car losing its exhaust to a deep puddle at the side of the road. With a 650-volt battery pack in the back I briefly considered what would happen if the Prius wasn't designed with this much water in mind. When Mark launched us through standing water that splashed well up over the wing mirrors and the car didn't even flinch, I stopped worrying.
We felt a little sorry for Mark who, given the weather, ended up taking a shorter test drive than we hoped he'd have. Over 11.2 miles his economy was 39.3mpg, but we're pretty sure he enjoyed himself.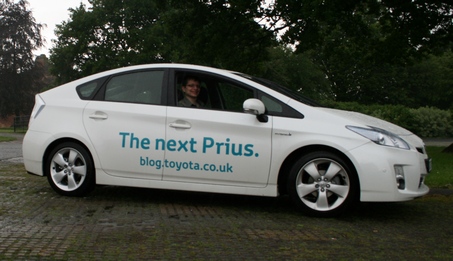 Before leaving Glasgow we paid a visit to Mark's local dealer, Shields Toyota of Hamilton, where Stuart McClaren took us and another member of the team on a quick drive. Both pronounced the new car a big improvement.
Sadly, although we'd tried to get in touch with Marion we weren't able to meet up with her, so we headed south, and eventually out of Scotland, for our next appointment in Liverpool. The rain wasn't finished with us yet, though, building up to an impressive and scary lightning display as we drove the M6 through Cumbria.
Read more Discover the current Toyota Prius hybrid range
Not long before reaching Liverpool, the Prius' fuel gauge was flashing at us and we decided to fill up again. This time Alex managed to squeeze slightly less into the tank, which – given that we'd brimmed it last time – was probably some way off running dry.
As you can see, the weather had changed for the better between Kendall and Liverpool, and by the time we met Sandeep at Lime Street station it was a lovely sunny evening. Sadly, it wasn't all good, as Alex was needed back at Toyota HQ. I waved him off with minutes before his train, and am joined for the rest of the journey by colleague Charlie. With no time for the two of us to catch up, Sandeep directed us on a local's tour of Liverpool city centre, before taking the wheel himself just near the iconic Liver Building.
Charlie and I didn't have anyone else to see, so Sandeep had a chance to take us on a longer drive around Liverpool, taking in the universities, cathedrals and Aintree racecourse before arriving at his place of work. Over the 20.8 miles, he managed a very respectable 58.9mpg, and managed a mostly relaxed pace – something he tells us isn't always the case!
Having dropped off a happy Sandeep, I made use of the Prius' fully-electric EV mode as we headed back into the city. Over 8.2 miles of stop-start driving, it helped me record 82.4mpg.
It's a shame to be leaving another great city unexplored, but this afternoon we have an appointment with Janet in south west Wales, and both Charlie and I are really excited about the drive there. We've decided to take Janet's advice and take the coast road via Aberystwith, which will also take us over Snowdonia national Park. We expect stunning views and lovely driving, but I worry what it will do to our fuel consumption, which last night stood at 70.8mpg over 1,285.6 miles.
2009 Toyota Prius test drive – day five
This morning we were looking forward to a lovely drive and I was worried about our fuel consumption. Well, we had it half-right.
The day started in Liverpool much as Monday finished – in lovely weather. It was a shame to be leaving a great city unexplored, but we managed a little more sightseeing after we decided that the route suggested by the sat nav was unecessarily circuitous. After trying to cut the corner off we learned today's lesson: you can't join the Birkenhead Tunnel from just anywhere.
After a quick stop for breakfast we were cruising through the Wirral, before picking up the A494 and beginning to encounter the kind of hills that look wonderful, but which don't do much for a car's fuel consumption. I'd been dreading what the undulations of Wales would do to our figures, and climbing each one saw our mpg come tumbling, but a trick discovered by Alex helped us make the most of them. Set a sensible speed in the cruise control as you crest a hill, and the Prius uses regenerative braking to stop you going too fast on the way down, building up charge in the battery ready for the next chance to run on electric power only.
Of course, you don't need to worry about all of this as the Prius recovers energy from the brakes during normal driving, but a bit of craftiness let me average 74.6 miles per gallon on the hilliest, bendiest roads we've driven in the past few days. And I was feeling pretty pleased with myself too, until Charlie – on his first ever drive of the new Prius – managed an even better 76.3mpg on the similarly hilly second leg to Saundersfoot, south west Wales.
It was great to meet Janet – whose comments helped inspire this trip – and her husband Vian, but sat in the car I was using the touch tracer controls to run through our facts and figures when I made a terrible mistake. For the whole journey we've been using Trip B to record the statistics for each individual stint, and Trip A to keep track of the overall mileage and consumption since I brimmed the tank in High Wycome (which seems like a distant memory). After proudly showing Janet that we'd covered 1,470.4 miles at an average of 71.6mpg, I reset the meter that proved it.
Fortunately, I've been obsessive about recording the stats on paper, so while I've now made all the calculations a lot harder we haven't lost the information. I consoled myself with that while Janet took the wheel and piloted us through yet more beautiful Welsh scenery on a relaxed test drive in the afternoon sun. With four of us in the car, I was again amazed by the gradient of hill it's possible to climb in fully-electric EV mode, and Janet – owner of a second-generation Prius – turned in an impressive 63mpg.
Now that I've reset Trip A, it takes a little maths to calculate our average consumption, but as of this evening we've covered 1,522 miles at 71.4mpg. Tonight we're in a quiet, eclectic house perched on headland overlooking a sandy Atlantic beach, on which I can hear waves breaking as I write. After a week of hotels it's wonderfully different, and is helping me recharge my own batteries ahead of the 330-mile final leg that awaits.
2009 Toyota Prius test drive – day six
After Tuesday's glorious weather on our 2009 Toyota Prius test drive, we awoke to signs that day six was going to be different. The rain and wind built steadily until we left our overnight stop at Nolton Haven on the far west Pembrokeshire Coast, by which time the weather was officially filthy.
Again.
Having made the most of the Prius' all-electric EV mode late on Tuesday to negotiate some of Pembrokeshire's wonderfully up-and-down lanes, there wasn't much left in the car's battery, so Simon's consumption figures were a bit harsh as we worked our way back to the A-roads. Having to use air con to demist – and headlights to be safe – didn't help either, but before long we'd arrived at FRF Toyota Haverfordwest.
There we met a bunch of enthusiastic Toyota mechanics, who couldn't wait to have a look at the car's oily bits. Salesman Rowan happened to be with a Prius owner who had passed by the dealership with his second-generation T4. Both went out on the road with Simon while I enjoyed a coffee with the front-of-house staff and talked about the car scrappage scheme.
With the weather looking to have set in, we set off for Swansea and ran into more bad luck, with saturated road surfaces, roadworks and stationary traffic defying any attempt to improve our economy figures. Still, our day brightened when we rolled in to FRF Motors Swansea at lunchtime and three staff members practically ran out of the office to get a look at the Prius, before getting inside for a brief test drive.
From Swansea, the long road home. With rain still hammering down, it was my turn to experience less-than-favourable driving conditions, and it took me some while to nurse the Prius' consumption up beyond 60mpg as we crossed the Severn back into England. Although looking at the queues coming into Wales along the M4, we counted ourselves relatively lucky.
After 120 miles we paused at Membury, and Simon took over for the last leg. With the day's relentlessly rotten weather having pulled the mpg downwards, and overall fuel consumption for the trip running at 70.16mpg, it was make-or-break time for our goal to beat the official fuel economy figures.
Fortunately, for the first time in the day, the skies began to lighten, and by the time we had dropped down on to the South Coast, Simon was comfortably maintaining around 75mpg on his final stint. But was it enough?
After more than 1,800 miles, the computer's indicated range fell to zero. Simon and Alex had found on their two previous refills that there seemed to be at least five litres or so left when this happened, but so close to home after such a long journey the last thing we wanted was to run out of petrol, so we refuelled at Worthing – 37 miles from the car's final destination.
So did we beat the 70.6mpg we should have got from a Prius with 17-inch wheels? Will it, as D Simons wondered, really go as far as the figures say? Over to statistician Simon for the final results…
The verdict
Well, our 2009 Toyota Prius test drive is over, the car is back safely, and Charlie, Alex and myself have all been fed and watered (if not quite properly rested). In the next few days I'll be publishing the full statistics for all the drivers on our marathon trip, along with my reflections on what happened, what we learned and how much fun we had, but this trip was all about questions, and there's an important one we need to answer.
Back at the beginning of June, D Simons – who's owned two Prius since 2002 – asked whether the new car could really do 72 miles on a gallon of fuel. It's a good question. According to the official (combined) figures, each gallon will take you 72.4 miles if you have 15″ wheels, or 70.6 miles if you have the 17″ wheels that are standard on the both the T4 and our T-Spirit.

There were many reasons for our trip, and many things we wanted to achieve, but like D Simons, I also wanted to know whether you could expect that level of economy in real-life driving on real roads. As it turned out, we also experienced a lot of real weather.
Of course, we wanted the car to do well so we drove it economically, but for a more realistic result we decided to include the figures from everyone that was taking a test drive – and that meant a lot of faster, shorter and more aggressive drives.
I've a mound of notes covering all the individual stints people spent behind the wheel during our 2009 Toyota Prius test drive, but to answer the big question: over 1,819.6 miles, 18 different drivers averaged an indicated 70.39mpg.
Over the whole trip, we were only fractionally short of the 70.6mpg official figure, and we managed much better than that on several stints – our best, recorded from Epsom to Rochford in Essex, was 83.7mpg over a distance of 60.4 miles.
So, after many hundred miles of driving we think we can truthfully say that yes, the Prius is capable of that kind of economy in real life, but – as with any car – you do need to drive with economy in mind.
Use Eco mode and the car's Eco meter – available in the upper dash zone and head-up display – and you'll soon find yourself doing just that.
Details in this article were correct at the time of publication.