If you've been reading for a while, you might know that in January we took iQ for a 500-mile drive on a seven-gallon tank of petrol. Well, we're about to hit the road again, and this time we're going even further.
Simon sets off on the next generation Prius marathon customer test drive from thisis iq on Vimeo.
Today I picked up a beautiful new Prius T Spirit – so new in fact it had just eight miles on the clock – and drove it back from High Wycombe to Brighton.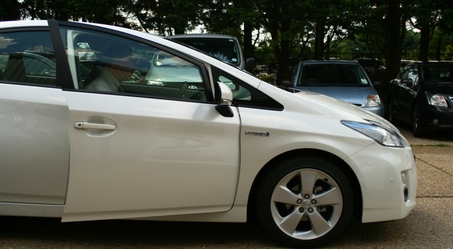 Tomorrow, I set out on a route that's yet to be fully decided, but which I hope will take me the length of England, into southern Scotland, and back down into the furthest reaches of Wales before I head back to Brighton – a round trip of well over 1,000 miles. As I go, I hope to drop in on some of the people who said they couldn't make it to see the car when it appears at the Bullring, Trafford Centre and Bluewater. So far, seven of the 15 people we've contacted are on our route.
With only one car I'm afraid we won't be able to visit everyone, but there are still spaces available on the Mira pre-launch event Matt announced earlier today – and if you can get to Birmingham, Manchester or Kent there's still plenty of time to catch the Prius at one of the three shopping centres.
This time, with a range of around 699 miles (our car has 17″ wheels, giving it a combined consumption of 70.6mpg), we won't be able to do it all on one tank of petrol, but we'll be driving as efficiently as possible. Things got off to a great start today – in 83 miles of mostly motorway driving I managed 77.5mpg!
You can follow our progress here on the blog, but we'll also be posting photos to our Flickr page as we go along, and giving regular updates via our Twitter feed – please follow us to find out how we get on!
Stockholm update
Meanwhile, Tom and Darryl will shortly be arriving back from Stockholm. We hope to bring you more news of the car's press launch early tomorrow, but if the feedback from Car Magazine and BusinessCar is anything to judge by, it looks like the new Prius has been a hit with the gentlemen of the press.