We've been learning more about the 'home' of the 2009 Prius hybrid: the Tsutsumi eco-factory in Japan where it's built. We're fascinated by the lengths management and staff go to make it a showcase for environmental best practice. It answers a lot of the criticism that has been directed at Toyota's hybrid car over the years; that it may be a cleaner car to drive, but that it's 'dirtier' to make than a regular petrol or diesel model.
Tsutsumi is one of five Toyota eco-factories around the world that pioneer clean operations and the use of renewable energy sources. Burnaston in the UK, home of Avensis, is another. The concept is that these plants will establish new ways of working that other factories can adopt in the future.
Solar power is one of the Tsutsumi eco-factory's big features, with 50,000 square metres of panels generating up to 2,000 kW of energy an hour. That's enough to meet half the site's total electricity requirements – equivalent to the power used by 500 homes – with the rest sourced from a highly efficient gas co-generation system.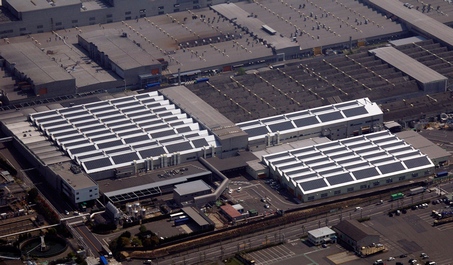 Every effort is made to ensure none of this power is wasted: energy-saving lighting is used and sunlight ducts have been designed into the buildings so that natural light can be exploited where possible. There are even regular staff energy patrols, and a control system cuts the level of electricity used when the plant is not in production.
Toyota's Eco-Factory ethos is not just about its performance in manufacturing, but also its relationship with local people and the environment. Much of the assembly plant is covered in photocatalytic paint, which reacts to sunlight by releasing active oxygen into the atmosphere, helping break down harmful substances in the air. Employees also joined with local people to plant 50,000 trees around the factory site last year.
When it comes to the figures, the Tsutsumi eco-factory concept is paying off. Tsutsumi sends no waste to landfill and since 1999 the amount that is incinerated has been cut by 82%, to 730 tonnes. The aim is to cut this figure to zero, too. Between 2003 and 2007, CO2 emissions were reduced by 36% and the total amount of waste produced fell by 21%.
Water usage fell by 14% during the same period, and a stringent recycling system has halved the amount discharged into local rivers; what's more, the water that is released from the plant is actually cleaner than the waterways it flows into. Perhaps we ought to drink to that?
Read more Totally clean car manufacturing
Details in this article were correct at the time of publication.