Things went from busy to busier last week, so I had to stay in the office while Tamsin, Charlie, and Rachel all enjoyed some time behind the wheel of our Prius. But soon enough a free evening came along, and I took the keys and headed to our underground car park ready to give the car a proper drive around the local roads.
Things don't always work out the way you plan them, however, and as I inched backwards out of the parking space, I was about to make a pretty embarrassing mistake. Not yet familiar with the car or the layout of the car park, and not yet brave enough to trust the rear-view camera, I managed to start turning before I'd cleared the second of two steel pillars bracketing the parking space.
Oh dear.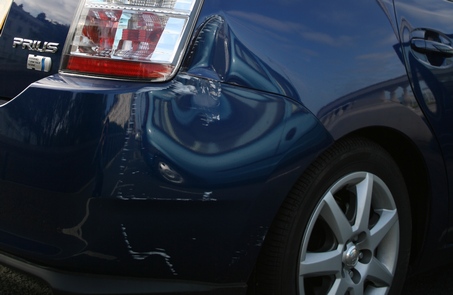 The result, as you can see, was a dented rear wing, scraped bumper and cracked rear light cluster, and the ending – in a painfully public manner – of a 19-year run of incident-free driving.
Yes, I do feel pretty stupid now. I'd like to blame the mishap on my stressy week, and the stupid positioning of the car park's pillars, but if I'm honest it was entirely my fault. And I feel sorry for the Prius. Had I looked at its rear view camera I'm sure I would have seen what I was about to do.
But it turns out that accidents do happen. And that scrapes are more embarrassing when even the car sees them coming.