Prius Plug-in is set to join the army of hybrids beloved by London's licensed minicab drivers. Openstart Ltd has ordered 80 of the rechargeable hatchbacks, making them available to private hire operators for the first time through the Public Carriage Office (PCO).
Prius Plug-in has the potential to offer hours of emissions-free driving around the capital, thanks to its excellent all-electric driving range – according to conditions, around 15 miles can be achieved in EV mode, with zero petrol consumption. The lithium-ion battery means a full recharge can be achieved in just an hour and a half, simply by connecting the car to a workplace, home or roadside power supply.
Hamid Tehrani, Openstart's owner and managing director, said: "We have always been pioneers of new technology in the PCO, right from when we first introduced automatic transmission to our fleet, something that's gone on to become a default feature."
"We are delighted now to be including Prius Plug-in, introducing our customers to the great benefits of Toyota's simple, reliable, low emissions plug-in hybrid system."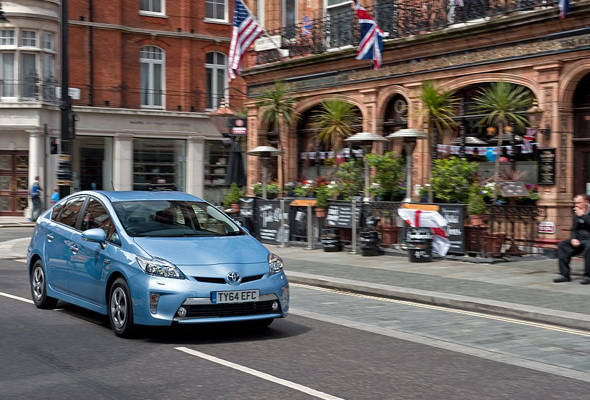 Stuart Ferma, Toyota's National Fleet Sales Manager, said: "Our hybrid Prius and seven-seat Prius+ are proven favourites as private hire vehicles and we're delighted that we are able to help Openstart develop the potential of Prius Plug-in as another strong proposition through the PCO.
"Prius Plug-in can deliver lower running costs, lower emissions and ease of use in the urban environment. And unlike all-electric vehicles it's a 'best-of-both-worlds' proposition, as the hybrid petrol engine is automatically engaged should energy levels be depleted, or extra power be needed."
Openstart has already taken delivery of 50 of its new Prius Plug-in, joining a fleet that has already added more than 60 standard Prius and Prius+ cars this year. All of its new vehicles are being supplied with a charging cable that will allow no-fuss connection to public charging points across London.
See also:
Central Training Services Limited on course for a greener fleet with Toyota Hybrids
#LoveHybrid: Addison Lee and the Toyota Prius
Lord Combustion fires up a new fleet of Toyota hybrids
SCC cleans up its fleet with Toyota Auris Hybrid Touring Sports