We've always considered a plant and a hard piece of plastic to be pretty much at the opposite ends of the environmental scale. Can plant-sourced car parts really be a thing? 
Well, yes. Sitting inside 2009 Prius hybrid, you'd be unaware of the fact that much of the plastic around you – even the foam cushioning you're sitting on – started its life growing in the ground.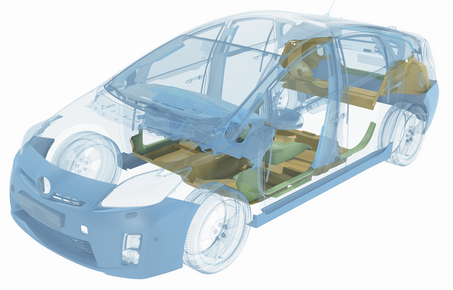 Toyota is leading the market with its carbon-neutral Ecological Plastic, a range of different materials that are either wholly or partly derived from plant matter and which can be used for a wide variety of vehicle parts. It isn't exclusive to Prius, Toyota is planning to phase it in over the next year or so, aiming to use it for around 60% of the interior components in many of its models.
The new plastic contributes to reducing Prius' lifetime emissions performance. The plants used to produce it were absorbing CO2 from the atmosphere all the time they were growing. Taking this into account, by the time a Prius is recycled, its Ecological Plastic will be responsible for 20% less CO2 emissions than a conventional oil-based plastic.
At the same time Ecological Plastic reduces the demand for non-renewable resources by using less oil-derived material.
Ecological Plastic is not a 'make-do' material for the sake of greener performance. These plant-sourced car parts are every bit as tough and long-lasting as you would expect from Toyota products.
The natural substances used in Toyota's groundbreaking process includes kenaf, a "wonder plant" related to the garden hollyhock. It produces a fibre that can be worked into sheets to make the base for the door trims. There's also a plant-derived polyester, polyol – which is made from non-food castor oil – and natural polylactic acid.
Details in this article were correct at the time of publication.