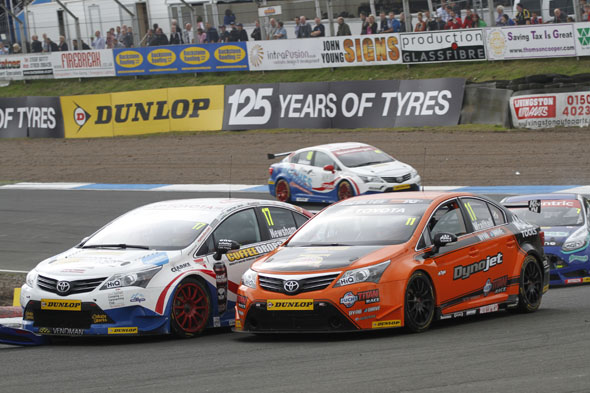 Toyota's independent drivers scored a hat-trick of top-10 finishes today at Knockhill, but all four Avensis drivers were left to ponder what could have been had their Dunlop MSA British Touring Car Championship fortunes panned out differently. Adam Morgan was once again the Toyota frontrunner, collecting a fine fifth-place finish for Ciceley Racing in the first of the day's races and following up with ninth in the finale. Speedworks Motorsport driver Dave Newsham made the top 10 also in what was a character building weekend for him and his team.
Morgan's run to fifth, from sixth on the grid, was a highlight of race one. The 24-year-old from Lancashire passed former champions Matt Neal (Honda) and Jason Plato (MG) to cross the line fourth, but his move on Plato was judged too physical and he was penalised post-race, dropping him to fifth.
A driveshaft failure in race two saw him exit the race while running sixth – it was the team's first mechanical retirement of the season – and left Adam 23rd on the grid for the final race. Undeterred, Morgan battled through the pack to finish a remarkable ninth. It was his 17th top-10 finish of the 21-race season. "I set off like a rocket," said Adam, "and unfortunately I think I worked my tyres too hard and they were soon gone. Still, ninth from the back of the grid is good and I salvaged some points after our disappointment in race two. This could have been a mega weekend for us but it's turned out just OK."
Newsham's dramas began yesterday with a major suspension failure in free practice. The Speedworks crew worked wonders to put Dave's Avensis back on track for qualifying. From 14th on the grid he improved to 11th in race one, and then to 10th in race two, despite a gear selection issue hampering his progress. Newsham was all set for a strong finish and was running eighth when further suspension issues brought his day to a premature close. "It's been a disappointing weekend, all in all," he said. "It's a shame, because we showed that we had the pace."
His Speedworks team-mate Ollie Jackson enjoyed his most consistent performances of the season, scoring points in all three races. His highlight was 11th place in race three. "This weekend has probably provided my highest points score of the season, so that's something. All things considered I'm happy with that," said Jackson.
After a disappointing outing at Snetterton earlier this month, Dynojet Racing's Frank Wrathall was buoyed by the between-meetings transformation of his Avensis. "We changed so much on the car after Snetterton that without a proper test in between races it was always going to be a bit of guesswork in this meeting. But I think the Toyota is a lot closer to where it needs to be. I definitely think we've made progress, but we've not had much chance to show it." Frank raced to 14th place in race one and improved to 12th on his second outing. An early spin into the gravel put paid to his hopes of an even stronger finish to his day.
In three weeks time the championship swings into the Rockingham Speedway in Northamptonshire for rounds 22, 23 and 24.