Jari-Matti Latvala and Esapekka Lappi were both in the points at the conclusion of a gruelling Wales Rally GB on Sunday, the penultimate round of this year's World Rally Championship.
Latvala brought his Yaris WRC home in fifth place and netted further points by posting third-fastest time on the Power Stage which closed the event. Lappi charged back into the top 10 with strong times during the final two days, finishing ninth overall. The third Toyota of Juha Hänninen had to be withdrawn after it clipped a hay bale, damaging the car's suspension beyond immediate repair.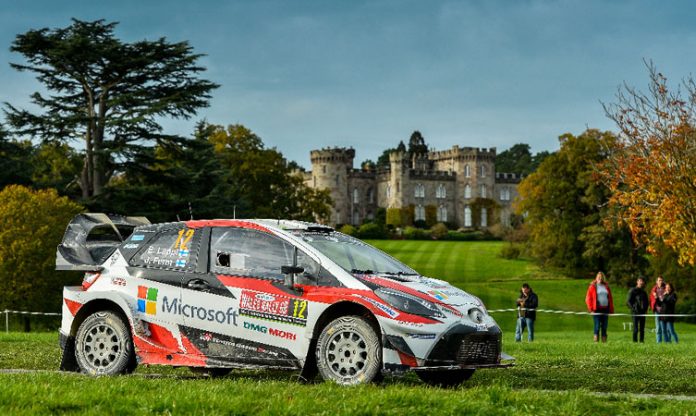 After a successful pre-event shakedown and a trouble-free short spectator stage on Thursday evening, the Toyota Gazoo Racing World Rally Team were in confident mood for Friday's first full day of action. Heavy overnight rain turned the gravel forest routes to mud, however, making grip levels hard to gauge. The day ended with Latvala in fifth and Hanninen 10th, just ahead of Lappi.
Progress was swifter on Saturday, with a 16-hour driving schedule through nine stages. Lappi battled through fog to claim a stage win, while Hänninen was second fastest through the Dyfi test, before his untimely retirement. Lappi was flying, too, with top-five times recorded on three consecutive stages, taking him up to ninth position.
For Team Principal Tommi Makinen, there were useful lesson to be learned from the Yaris WRC's first competition appearance in the UK. He said: "I can't really be happy with our performance here, but on the positive side we know what was holding us back and how to rectify it."
Latvala, too, was philosophical: "This has not been a perfect rally for us, but we're happy to score some points, we know what we can do to improve, and it doesn't take anything away from the fact that the Toyota Yaris WRC is the best car that I've ever driven.
"Conditions between the rally and the test were not exactly the same and that was one of the problems we experienced: on the polished stages today it was impossible to get the car to turn, so that was frustrating. But I've still enjoyed the rally, it was fantastic to see so many spectators out on the stages. Wales is always one of the most difficult events of the year, but after Finland it is definitely my second home rally, I'm always very happy to be competing here."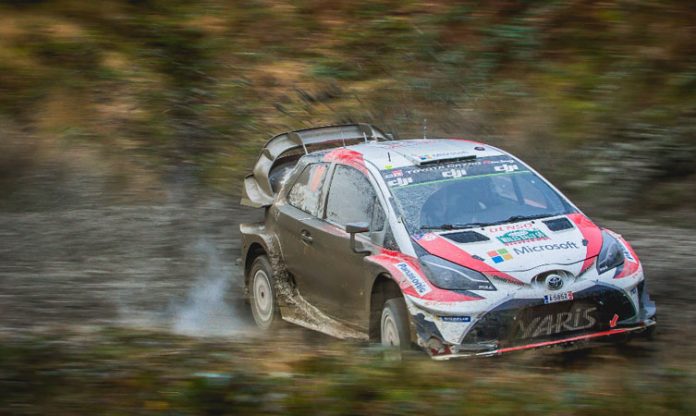 Elfyn Evans made history as the first Welshman to win Wales Rally GB – his maiden WRC victory – while third place for Sébastien Ogier was enough to earn the French driver his fifth consecutive drivers' championship.
The final round of the 2017 championship is Rally Australia, taking place from 16 to 19 November on the coast between Sydney and Brisbane. Two Yaris WRC will be competing, driven by Latvala and Lappi.
The Wales Rally GB is the only round of the World Rally Championship where the service park is located in the grounds of a car manufacturer's factory. Take a look at the video below to find out more about Rally GB at Deeside, our engine factory that makes 1000  engines a day.
PROVISIONAL FINAL RESULT, WALES RALLY GB 
1 Elfyn Evans/Daniel Barritt (Ford Fiesta WRC) 2h57m00.6s
2 Thierry Neuville/Nicolas Gilsoul (Hyundai i20 Coupe WRC) +37.3s
3 Sebastien Ogier/Julien Ingrassia (Ford Fiesta WRC) +45.2s
4 Andreas Mikkelsen/Anders Jaeger (Hyundai i20 Coupe WRC) +49.8s
5 Jari-Matti Latvala/Miikka Anttila (Toyota Yaris WRC) +50.3s
6 Ott Tanak/Martin Jarveoja (Ford Fiesta WRC) +1m02.3s
7 Kris Meeke/Paul Nagle (Citroen C3 WRC): +1m20.5s
8 Hayden Paddon/Seb Marshall (Hyundai i20 Coupe WRC) +2m16.3s
9 Esapekka Lappi/Janne Ferm (Toyota Yaris WRC) +2m46.5s
10 Dani Sordo/Marc Marti (Hyundai i20 Coupe WRC) +3m50.5s
Ret Juho Hänninen/Kaj Lindström (Toyota Yaris WRC)
2017 FIA World Rally Championship for drivers after round 12: 
1 Sebastien Ogier 215
2 Thierry Neuville 183
3 Ott Tanak 169
4 Jari-Matti Latvala 136
5 Elfyn Evans 118
6 Dani Sordo 95
7 Juho Hänninen 71
8 Kris Meeke 70
9 Craig Breen 64
10 Hayden Paddon 59
12 Esapekka Lappi 51