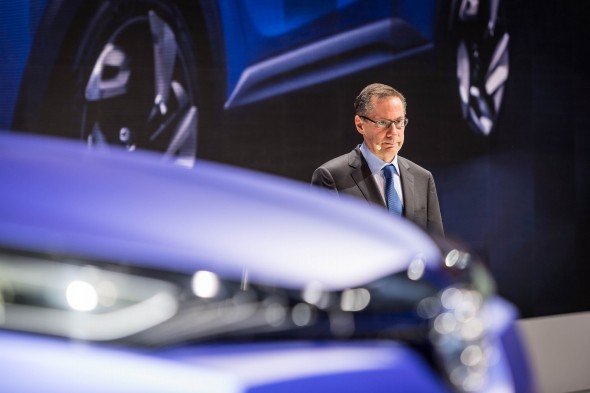 Marrying an all-new Toyota Hybrid system with a sporty and low slung body, the Toyota C-HR Concept represents a new type of hybrid. Toyota Europe Executive Vice President, Karl Schlicht, unveiled the model to the world's press this morning – here's what he said.
Schlicht on the Toyota Hybrid's shifting raison d'etre 
Apart from the many rational reasons for which you might choose a Toyota hybrid, there is perhaps a more important emotional one: Hybrid has this amazing ability to calm or de-stress you , make you feel better, in the increasingly busy, over-crazed urban world we live in. This technology is a real differentiator for us. To us, Hybrid = Toyota, Toyota= Hybrid.
Globally, our hybrid production has now reached 7 million units, and in Europe, nearly a third of all Yaris sold are now hybrid and about half of all Auris, are hybrid.
Through our participation to the World Endurance Championship, we have added another dimension to Toyota Hybrid. We have enthused tens of thousands of fans and showed them that hybrids can be efficient, yes, but fun and fast too!
Half way through the season, we are leading the driver championship, and next week, in Japan, we will be fighting to regain our first place in the manufacturer classification.
[slider_pro id="254″]
Schlicht on the C-HR Concept
Last year. we announced that we would be expanding our hybrid range. Today, we are pleased to show you something we are working on, the C-HR Concept.
This concept is the synthesis of over 20 years of Toyota creativity. Just as the first RAV4 brought a fresh and totally unique view to the 4×4 market, C-HR represents Toyota's unique view of the cross-over segment.
And like the ever widening range of Toyota Hybrids – symbolised by Prius – C-HR is powered by Toyota's signature Hybrid powertrain. In fact, this Concept gets a new hybrid system, that will re-set the standards for consumption and emissions.
And – it continues down the path set out by our GT86, putting renewed focus on dynamics and agility. This concept's new platform with its low centre of gravity make it just plain fun-to-drive!
[slider_pro id="255″]
Schlicht on European-led design
After surprising the world with our recent designs, like new Aygo and the latest Yaris, this is the next in a line of Toyota models with a much more engaging design.
In line with our Global Vision, the concept for this vehicle was driven by the European market, where the A-, B- and C-segments are the most competitive, and make every car maker stretch.
The team at our studio in Southern France, ED2 helped give shape to this fabulous and totally original design. They have done us proud, and prove that Toyota can design cars that appeal more to the heart, not just the brain.
More from 2014 Paris motor show
Toyota C-HR concept revealed at 2014 Paris motor show
Toyota Fuel Cell Sedan at 2014 Paris motor show
Toyota Fuel Cell Sedan: 9 questions to Matt Harrison
Toyota i-Road at the 2014 Paris motor show