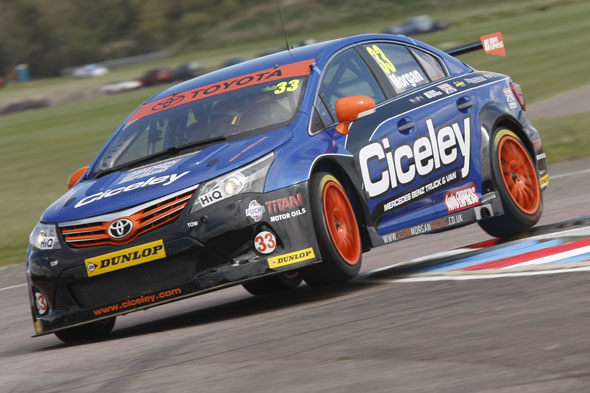 Toyota's three independent touring car teams – Ciceley Racing, Dynojet Racing and Speedworks Motorsport – are all hoping for a little home advantage this weekend as the Dunlop MSA British Touring Car Championship swings into Oulton Park for the fourth meeting of the season. It's home turf for all three of the Avensis squads, with Ciceley and Dynojet both based around Preston in Lancashire and Speedworks operating from a base in Stockport.
Ciceley's Adam Morgan says it's his biggest weekend of the year: "It's my home track and you can guarantee that all my family friends and home supporters will be out in force. The irony is that although I love the circuit I've not had brilliant luck there in the past. Hopefully we can turn that around this year."
Certainly Adam's luck is swinging in the right direction this season after a troubled BTCC baptism in 2012. Morgan's Toyota has scored four top-five results so far and has finished outside the top 10 only once in nine races; Adam is seventh overall in the drivers championship and he and Ciceley Racing are ranked second in the Independents Trophy.
He enjoyed a fruitful test last week at Donington Park: "We made some good progress, concentrating on general set-up and checking all the systems were OK. I feel we have a reasonably good set-up for Oulton now; the Toyota felt really good and we've come a long way since last year, so hopefully we will be right up there."
Frank Wrathall has endured a frustrating start to his season, often showing strong pace in qualifying in his Dynojet Toyota but enduring difficulties in the races. His problems at Thruxton last time out have been diagnosed as a damper issue.
"We've had a full day testing at Donington Park, and that went very well and helped us get to the bottom of the problems we were having at Thruxton," said Frank. "We traced it to damage to the shock absorbers, probably caused by hitting the kerbs early on in the meeting. It explains a lot of our issues. For one reason or another things haven't all come together for us on race day; I'm hoping that Oulton will see a change in our fortunes and that I can get three good race results under my belt."
The Speedworks team has been hard at it since last month's Thruxton BTCC rounds, testing at Pembrey in Wales and at Donington, with encouraging results according to driver Dave Newsham: "Ollie Jackson and I completed a large programme of set-up changes. We both tried different set-ups and settings and at the end of the day we brought all we had learned from both cars and bolted it on to my Avensis, and it was transformed. It was doing everything I wanted from a BTCC car, and was so much better than the car we had been driving in the first three rounds."
Sunday's Oulton Park race action gets underway, live on ITV4, from 1225. Saturday afternoon's qualifying session will be streamed on itv.com/btcc at 1515.