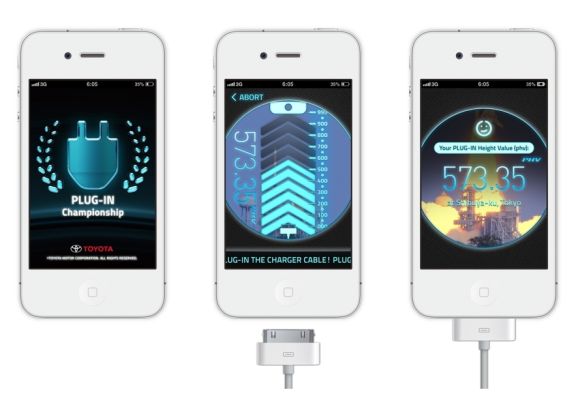 Toyota has recently launched the world's first charging-based smartphone app. Called the Plug-in Championship, this iPhone and Android app transforms the simple action of recharging a smartphone (or similar device) into a game control that forms the core action in a worldwide challenge.
Players within the Plug-in Championship compete with each other by timing the plug-in action of recharging with a fast-moving bar rising up the screen. Halting the movement of this bar at the very top of its travel will be converted into the highest possible score. So the question every player wants to know is: Who will be the first to achieve the perfect plug-in score of 1000 points?
Immediately after plugging-in your smartphone the app reacts by playing an exhilarating video clip, which varies depending on the score won, time, and location of the plug-in.
The aim of this free app is to transform people's perspective of something that needs to be charged into something that is fun to charge. Owners of the Prius Plug-in already appreciate that charging their car's battery contributes to the extended cruising range of the electric-motor-only driving mode, reduces CO2 emissions and fuel consumption, and contributes to a cleaner environment. Similarly, with this app Toyota hopes to engage on a virtual level with many more people across the world, helping them experience a little of that same fun-to-charge mentality.
Search for Plug-in Championship on the iTunes App Store or on Google Play, while you can also analyse your performance against others on Toyota's official championship website.