We've been talking about how the new Prius improves on the current car, but until now we've been in the dark about how much the newer, faster, more economical Prius is going to cost. Quite a few blog readers have been wondering, too.
Today, Toyota announced its UK pricing for the next-generation car. Potential customers will be glad to know that prices for the entry-level T3 model and the top-of-the-range T Spirit will be exactly the same as for the current model. In between, there's a modest increase for the T4 to reflect its improved specification.
In hard figures, that's £18,370 for the T3, £19,990 for the T4 and £21,210 for the T Spirit.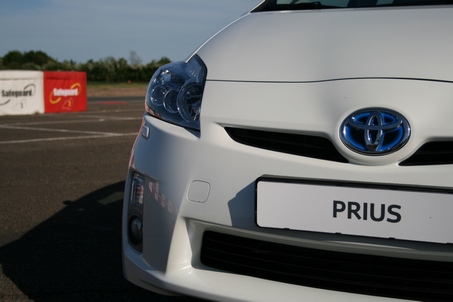 But while the prices are little changed, the new car delivers so much more on many different levels.
For a start, the standard specification for each grade has been significantly improved. We'll be bringing you full equipment details soon, but as an example, the T3 now comes loaded with extra high-tech features including a head-up instrument display and new Touch Tracer multi-function switches on the steering wheel. In addition to the current car's spec there are front fog lamps, a heating function on the electric door mirrors, a driver's knee airbag and a Smart Entry & Start system.
The T4 gets the same goodies plus 17-inch alloys, Bluetooth, an eight-speaker sound system and automatic wipers.
And, continuing the more-for-your-money theme, T Spirit comes with an improved hands-off-the-wheel Intelligent Park Assist and a new Toyota hard disk drive (HDD) navigation system that also gives you an on-board electronic music library. And we really do like the sound of that!
Extra spec is only part of the story, as new Prius is significantly more powerful than before, has lower emissions – a best-on-the-market 89g/km – and gives more miles to the gallon with an official 72.4mpg combined cycle figure.
And it doesn't stop there. Prius' redesign means there is more room in the cabin, especially for rear seat passengers, and, thanks mainly to a more compact hybrid battery pack, there's more usable space in the boot, too.
Sales start in August began on 1 June, but from 8 June you can see the car in the flesh at Birmingham's Bullring.