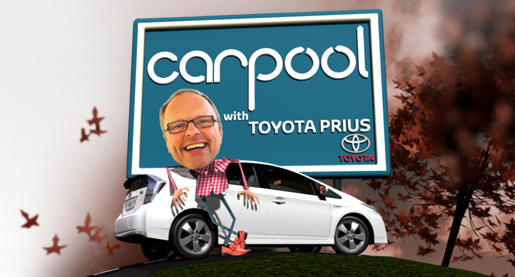 We have the perfect antidote to the January blues: Carpool is back on your TV tonight! The year may have changed, but the laughs continue as Carpool takes a new slot, at 8.30pm every Wednesday on Dave.
After a well-earned festive break, Robert Llewellyn returns behind the wheel of his Prius to interview more famous faces. Regular viewers will know what to expect – Robert's laid-back approach brings out the best in his guests, who so far have included fellow Red Dwarf alumnus, Craig Charles, The Trip's Rob Brydon and The Thick of It's Chris Addison.
Jo Brand and Jason Byrne are next in the hot seat (albeit, one at a time!) – click here to find out who will be following them later in the series.
If you can't wait until 8.30pm for your next dose of Carpool in-car comedy, you can catch up with highlights from some of the earlier episodes here. In case you miss tonight's show, don't forget to head over to Dave Ja Vu an hour later for the repeat.
P.S. Want to know a bit more about the car Robert uses in each episode?  Click here to see Robert debunk a few myths about the Prius in our Hybrid Mythbusters Carpool video special.