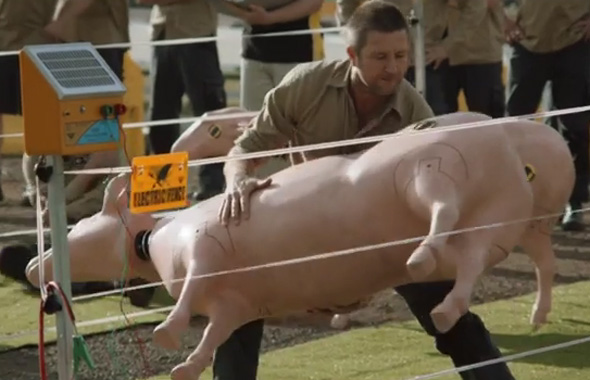 Are you tough enough to handle the Toyota Hilux?  That's the question asked in new Australian TV advert.
In a typical Aussie twist, the ad doesn't show how tough the car is, but puts drivers to the test instead.
Aussie blokes in shorts and high-visibility vests are put through a series of challenges at a dedicated testing facility, such as being hit by colleagues' equipment, coping with unspeakable smells from portaloo "dunnys" and wrestling dummy sheep. Many don't make the grade and drop out of the testing process, unable to handle the strict standards of ownership.
The soundtrack to the advert is Ennio Morricone's epic 'The Ecstasy of Gold' which featured in the classic spaghetti western The Good, the Bad and the Ugly.
As the music reaches a crescendo, we find out if the advert's protagonist makes the grade.
Take a look at the video below to find out.
To find out more about the Toyota Hilux, visit the dedication section of toyota.co.uk.
See also:
Fancy seeing the Iceland volcano in a Toyota Hilux?
Video: What happens when you take a Hilux into the Thai jungle?
10 Reasons the Toyota Hilux rules the Earth