What do the experts think of the the new Toyota Verso MPV? Read on to see our roundup of the road test reviews published so far. Don't forget we will update this post regularly as more Toyota Verso reviews are published.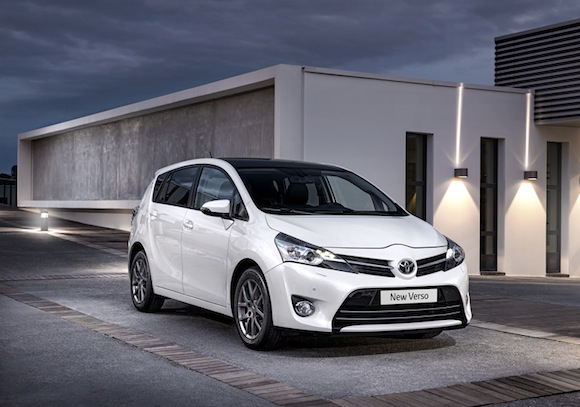 Toyota Verso review – What Car?
First up, Pete Tullin praised the car's power, refinement and comfort in his four-star What Car? review. Complimenting the 2.0-litre diesel engine's responsiveness, economy and lower emissions, he writes: 'This latest Verso is far more refined and comfortable than the car it replaces, while interior quality has also taken a big step forward.
'True, there are higher-powered 2.0-litre diesels in this market, but it's hard to think of any that are quieter.
'Maximum torque is delivered from just 1,600rpm, so a gentle squeeze of the accelerator is usually all that's needed before selecting the next gear.
'Elsewhere, the Verso's body has been stiffened thanks to an increased number of spot welds, and this seems to have worked wonders; the ride feels supple and high-speed stability is impressive.
'Add in strong resale values, a five-year/100,000-mile warranty and competitive pricing, and the new Verso looks quite an attractive proposition.'
Read the What Car? review here
MSN Cars review new Toyota Verso
Next up, CJ Hubbard of MSN Cars also awarded Verso four stars. He writes: 'Far more than a facelift, the Verso is first to benefit from Toyota's new localisation programme – giving European designers and engineers the chance to make a difference, and boy does it show.'
'The changes here aren't just tangible, they're substantial – to the point where, putting aside the GT86, this is the best Toyota we've driven in quite some time.
'The satisfyingly mechanical precision of the six-speed gearbox and improvements to cabin refinement make a significant difference to the perceived depth of quality. Toyota has always built reliable cars – now it's given us a truly polished one.
'The 2013 Toyota Verso is a fantastic enhancement over the car it replaces. With its striking looks, drastically better driving experience, refined quality and familiar versatility it deserves the attention of anyone shopping for a well-rounded MPV.'
Auto Express review new Verso
Auto Express made it a four-star hat-trick with their review. Damion Smy wrote: 'The Verso is cheap to run, plus has superb resale values and strong reliability. The new model offers sharper looks, plus better handling and refinement in a bid to take a bigger slice of the MPV market.
'Efficiency and response are boosted, too, and all for a lower price. It's still not the last word in fun, but the new Verso is a vastly improved car.'
Read the Auto Express Toyota Verso review here
Autocar review Toyota Verso
Autocar's Nic Cackett describes the Verso's redesign as 'subtle… though highly successful'.
Speaking of the European development team's work, he adds: 'Time spent discovering where the body required its 34 extra spot welds has produced a far tauter body, which, in conjunction with the retuned suspension, has delivered confident, agile handling and ride comfort.
'This is a quieter, leaner, more amenable, more comfortable and just plain better Verso.'
Read the Autocar Toyota Verso review
Parkers review new Verso
Lewis Kingston of consumer buying guide Parkers praised the improvements made to the Verso engine line-up, writing: 'If you're looking for a spacious, practical and reliable new car then you could consider the Toyota Verso.
'Three engines are available: a 2.0-litre diesel, a 1.6-litre petrol or a 1.8-litre petrol. We tested the 2.0-litre diesel version of the Verso, which outputs 122bhp and 310Nm of pulling power. That grants the Verso a 0-62mph time of 11.3 seconds and a top speed of 115mph.
'It's likely that this engine will appeal to many due to its combination of performance and efficiency. Average claimed fuel consumption is a sensible 57.6mpg, while emissions of 129g/km of CO2 – a 10g/km reduction compared to the previous model – means yearly road tax of £100. There's plenty of pulling power on offer and the engine is smooth and refined, although it does become breathless after 4,000RPM.
'This isn't a problem, however, as the six-speed manual gearbox offers a good selection of ratios and the diesel's low-down pull means it's quite happy to tick along at low speeds in higher gears. This reduces the need for frequent gear changes.'
Car Throttle review Toyota Verso
Another of the positive Toyota Verso reviews came from Car Throttle Editor Alex Kersten, who was definitely taken with Verso, giving it a rating of 7.8 out of 10.
'It looks good, it drives well and is as practical as edible underwear (that's good, by the way).
'Like the outgoing Verso, this 2013 model features seven seats, a simple dashboard design and plenty of cubbies and drinks holders for stuff you never knew you needed. You can also spec the Verso with a panoramic roof, which should shut the kids up for a few minutes.
'Ride quality is great, road and engine noise far quieter than the outgoing model.
'Toyota really has worked wonders to get the 2013 Verso back to the top of the mighty MPV game. It's good looking, smart, practical, comes with a five-year warranty and cruises comfortably and quietly on motorways. If you're in the market for a Ford C-Max, we recommend you swing by a Toyota dealership first.'
PetrolBlog review Verso
The last of our Toyota Verso reviews is Gavin Braithwaite-Smith's Petrol Blog review. It describes new Verso as: 'an unfussy and well-thought-out package that puts safety and convenience above bells and whistles.
'It's also much, much better to drive than you'd ever think. Toyota Motor Europe has done a top job which bodes well for future all-new Toyota models.'
Despite the car not being the regular 'olden but golden' fare for the site, he adds: 'It's arguably one of the least PetrolBlog cars ever to appear on the site, but that doesn't stop me having a deep admiration for the new Verso.'
Read the PetrolBlog review here
Details correct at the time of publication.