The new Verso is the first Toyota ever to be completely designed and engineered in Europe, and the man in charge of development is 35-year-old Mehmet Kiliç.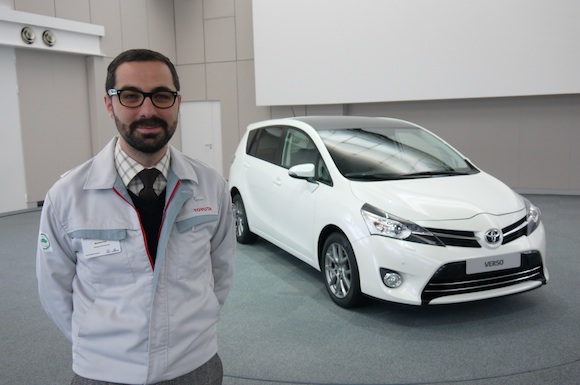 We caught up with the assistant chief engineer at Toyota's European Design and Development centre (better known as ED2) to find out how he approached the task, why the Verso represents new ground for Toyota in Europe and the challenges of creating a model in the fiercely competitive family car market.
TB: What was your main priority in developing Verso?
MK: Most important for me is doing all that work to improve the car, while having a healthy cost balance. Ultimately, the exercise is be about offering our customers much more value for money.
TB: MPVs exist to provide practicality and versatility, is it hard to balance ease of use with design and style?
MK: This is one of the biggest challenges of making an MPV, but if your mind is focused on compromise then the final product will be compromised. You have to conceive the very best shape, design, packaging and engineering set-up and then work to bring those things together without making sacrifices.
What's great about Verso is that it is a very compact car, and yet it has great space, practicality and flexibility. You want to keep that and make the car better; so for example we have the Easy Flat seat folding system but now it is available with leather seats. One of the most important factors when creating an MPV is durability; those seats might be folded up and down several hundred times a year, so the materials have to be much more durable than they would be in, for example, a saloon where the rear seat bench is fixed in place. So we worked hard to ensure the materials we used would stand up to tough treatment.
The same goes for the styling – people want versatility and lots of space, but they also want a good-looking car. It's human nature to respond more positively to something looks good and it's also a way for us to deliver added value.
People want a car that looks good but also one that will stay looking good after heavy use.
Toyota Blog: The Verso is the first Toyota completely developed in Europe. How did the project come about?
Mehmet Kiliç: We really wanted to do a new car project within Toyota Europe, not only to show our capabilities to our 'mother' division in Japan, but also to put more focus on European needs and tastes.
The Verso was a great opportunity which presented a lot of challenges – styling, packaging and driving dynamics, for example – and with support from our president Didier Leroy we got the assignment to lead the planning and development of the car.
TB: How did you come to lead the project?
MK: Until three years ago I was manager of the prototype department in research and development and I have spent the majority of my career in product development.
I think because of my work there I got the assignment to become the European assistant chief engineer. Matsumoto-san [Akira Matsumoto] is chief engineer but he is based in Japan and his was mainly an oversight position.
We were given complete control over the car, which is different to how we normally work.
TB: How did you react when you were told you would be in charge of developing Verso?
MK: When you are given that kind of responsibility there is an element of surprise and pressure, but you really need to get on and lead the project and complete what you have committed to doing.
It's a huge responsibility and honestly speaking, I was and I am still very proud to get the assignment. But what makes me really proud is that we could realise the car as a team in Europe. About one to two hundred engineers and specialists from across Europe have worked together from various departments and functions to realise the car.
It has been stressful at times though!
TB: What do you do first when developing a car?
MK: We start by seeing how much extra value we can add in to the car without altering the price to the customer.
We then set targets based on that work and make the first prototypes, then we assess them and see which things work and which need to be improved.
TB: Which is easier, upgrading an existing model or creating a completely new car?
MK: Obviously with a mid-life upgrade model we have some factors like length and width where we have a rough boundary to play with, but we tried as much as possible to re-imagine the car, come up with the very best ways to make improvements and then work to deliver them all.
Working on a model upgrade involves all kinds of factors. One is based on what's liked and disliked about the existing model. We work with our colleagues in marketing and sales to find out what they believe is necessary to improve, as well as involving the voice of the customer, and seeing what's important for them.
With this project, the nice thing was that in the beginning we didn't say how much we want to change, we just said 'let's make the concept and see what will come out'. You need to look at possibilities rather than the limitations of what you already have.
So to be honest in some ways, working on a new model and on an update are not completely different.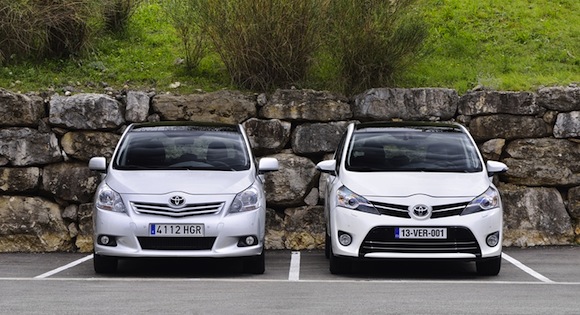 TB: Is there an element of the car you're particularly pleased with?
MK: I'm very pleased with what we have done on NVH [noise, vibration and harshness] performance. The basic box-like shape of an MPV means we had to overcome things like wind noise and engine noise, but the level of progress we made was really superb.
I think the new execution of the front end, to give more character to the car, has also been successful. For me, it makes it much more pleasing to do that with a family car, as good looks are sometimes overlooked in favour of practicality. This also had the bonus of making a positive impact on aerodynamics.
Finally, I think the combination of ride quality and driving dynamics is really pleasing. A car has to connect with the driver to be really successful. The early feedback suggests we've made some really worthwhile improvements , which is great for us to hear as a development team.
TB: How long have you worked for Toyota?
MK: Eleven years, eight of which have been in research and development and working on prototypes.
TB: How would you describe Toyota's current direction? Where is it heading over the next five to ten years?
MK: I would define it with one word – dynamic. There's a lot to be excited about it terms of product, lineup and progress.
Over the next five years, I expect TME [Toyota Motor Europe] to become the main A-, B- and C-segment planning center for Toyota globally. I strongly believe that we have a lot of things to accomplish and realise there. That's really the area where I see the operation being focused and expanding.
TB: Finally, what do you drive?
MK: At the moment I'm driving an Avensis estate. It's great, very easy to drive and comfortable and very economical. That said, I tend to borrow cars a lot so I know the whole range well.
Of course, I will be getting my own Verso soon, so I can see what it's like to live with!
Take a look at our other posts on new Verso, or find out more on the Toyota website.