Toyota's latest built-in-Britain Avensis racer broke cover today. The 2012 British Touring Car Championship contender was given its public unveiling in the Silverstone paddock ahead of tomorrow's final rounds of the 2011 BTCC.
Based on the Avensis which Frank Wrathall and the Dynojet Racing team have turned into a front-running prospect in its maiden season of BTCC competition, the new car features not only the dramatic styling enhancements and dynamic improvements of the new Avensis road car but also many competition-honed advances.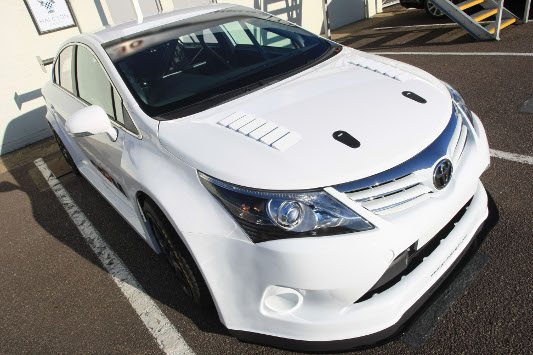 Created by the team at GPR Motorsport, the chassis development experts behind the 'Next Generation Touring Car' concept, the 2012 Avensis is expected to offer significant benefits when it hits the track.
"There is a lot more airflow through the new front end," says GPRM's Gary Blackham, "and that will aid engine cooling and performance, with more air flowing to the intercooler. But the new front end and styling changes are not the end of the story, because many lessons were learned during the Toyota's maiden season of competition and there are significant changes under the skin also."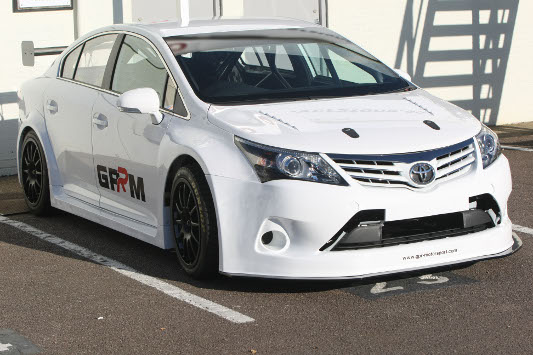 The new Avensis, which will be on paddock display throughout the Silverstone weekend, is drawing interest not only from BTCC fans but also from established BTCC teams and drivers looking for new machinery for the coming season.
Dynojet Racing's Frank Wrathall, in whose hands the Avensis has become a frequent podium finisher in the second half of the season, was among their number: "The new Toyota looks great… I can't wait to get my hands on one," said Frank.
Winter track testing of the 2012 Avensis is scheduled to start soon.
Wrathall claims 10th in qualifying
Frank Wrathall and his Dynojet Racing Toyota Avensis will start tomorrow's 28th BTCC round at Silverstone from 10th on the grid after showing a strong improvement in pace in official qualifying this afternoon.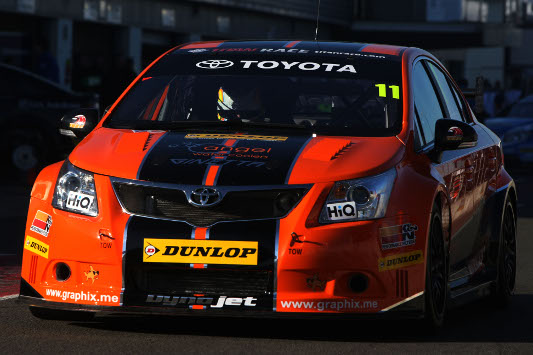 Wrathall improved his free practice pace by more than half a second to set a best qualifying lap time on Silverstone's National circuit of 59.605s. The Toyota's time was the best from one of the 'Next Generation Touring Cars' by a considerable margin: Rob Austin's Audi was Wrathall's closest NGTC rival, 20th overall and seven-tenths behind.
"I'm reasonably pleased," said Frank. "I didn't get a perfect lap in and we maybe could have got more out of our last run on fresh tyres, but with the grid separated by so little time I can't complain about 10th.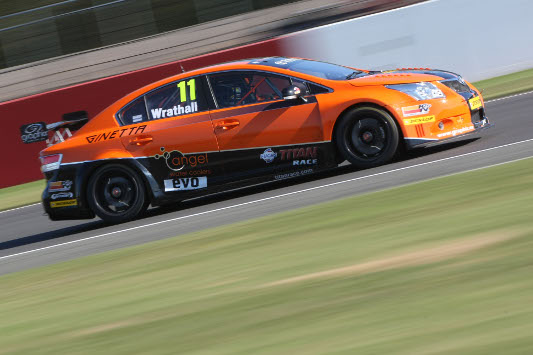 "We made a big improvement on our pace from the free practice sessions, which is a big positive, and we are way ahead of the other NGTC runners."
Less than nine-tenths of a second covers the top 15 on the grid, which is headed by championship contender Matt Neal, whose Honda set a time of 59.131s. Neal is one of five drivers gunning for the Dunlop MSA British Touring Car Championship title; the others are Jason Plato, Mat Jackson, Gordon Shedden and James Nash.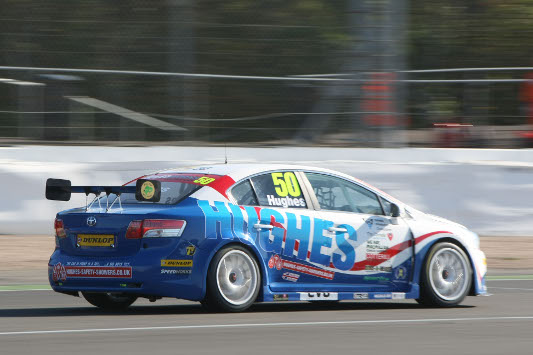 There was a big time gain in qualifying also for Toyota independent Tony Hughes, whose Speedworks Motorsport Avensis set the 27th best time: 1m 01.206s, which was nearly a second up on Hughes's free practice pace.
Tony's qualifying ended prematurely with a visit to one of Silverstone's gravel traps. "I gave it a bit too much right foot and she wasn't having any of it," said Tony, whose Toyota was undamaged.
"We're very pleased by Tony's progress," said Speedworks boss Christian Dick. "He's made a big gain in time and with a bit of coaching he can improve further tomorrow and enjoy some good racing tomorrow."
The first of Sunday's championship-closing Silverstone races is scheduled for 1145. All three BTCC rounds will be screened live on ITV4 and itv.com.