Production of the all-new and British-built Toyota Auris is finally underway, but last week we were given an exclusive chance to be the first to drive the car ahead of its official launch at Toyota's Burnaston factory.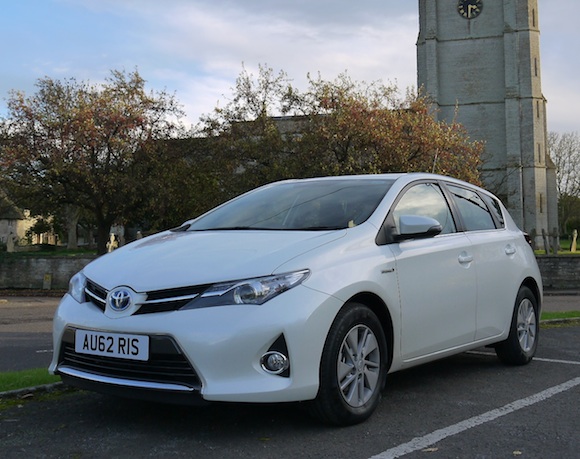 An embargo means we can't talk about how it drives just yet (other than to say we liked it!), so instead we took it to you, the Great British Public, to find out exactly what you think.
This was the first time New Auris would be seen on UK roads, and secrecy ahead of the factory launch was important, so we took the car on a whistle-stop tour of the South West to get people's first reactions.
We drove an Auris Hybrid, in the new mid-spec Icon grade (find out about Auris prices and specification here).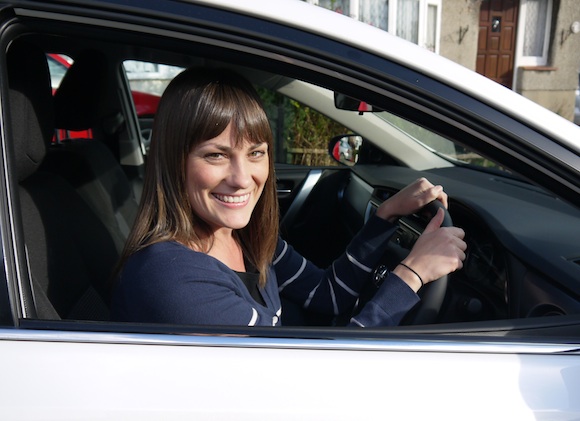 Teacher Lara Hosford, above, who lives near Chilcompton, said: 'It's comfortable, and it feels like I could get used to it quickly because it's nice and simple inside.
'It looks nicer than a Focus or an Astra, I'd say it's a little bit like a BMW, especially from the back. The first thing I noticed was the colour, the white paint is pearly and it sparkles when you're up close to it, it's lovely.'
Mark Wilde, who runs a catering company and lives in Yeovil, said: 'I have a van to get my work equipment around, but I usually need a car as well. The Land Rover I have at the moment is terrible in terms of fuel, so the hybrid sounds really good to me.
'Anything that would lower my fuel and tax bills is worth a look, so it's certainly something I'll think about when I change my car. I like the look of it too.'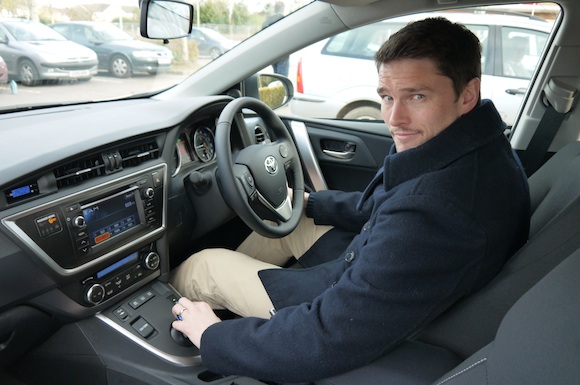 Oliver McManus, above, who lives in Yeovil, said: 'I think it's really good looking.  My wife and I have just had our first baby so practicality is important. The boot space looks about right in terms of space for what we need, like a pram and baby stuff. If I could get something that's cheaper to run than my car I'd be really happy, so the Auris Hybrid seems great.'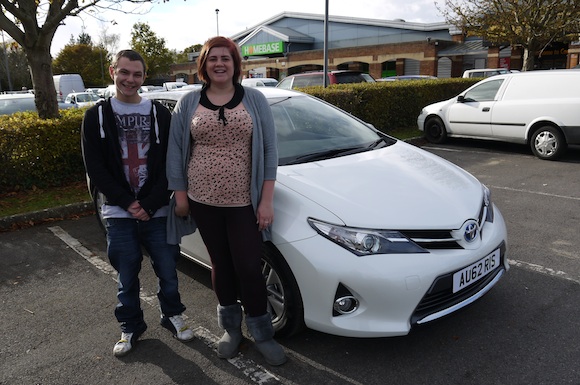 Lucie Adams and Kevin Buxton, above, from South Petherton, both complimented the style of New Auris. Lucie said: 'I really like the shape; it's a good-looking car. I didn't know Toyota makes it in the UK, but that's really good to hear and it would make me prefer to buy it than something made in Europe or somewhere else.'
Kevin added: 'It looks very smart, and I like the idea of the hybrid system, it sounds really clever. I'd really like to have a drive in it.'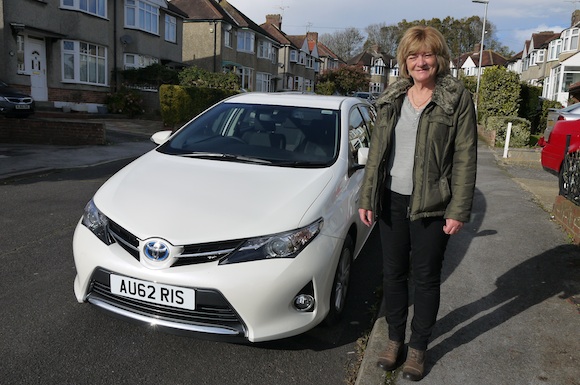 Yeovil resident Judith Kingsmill, above, said: 'It looks lovely, I know Toyotas quite well as some of my friends and colleagues own them and this is a lot better than the previous Auris. It looks like it's got plenty of space and the interior is smart too.'
Jo Feltham, who also lives in Yeovil, said: 'I'm a Volkwagen owner and I've had them for a long time, but I really like the lines and the shape of this, it's quite distinctive. The VWs I've had have always been pretty reliable but I know Toyota is very good on that side of things, so I would take a look at the Auris when I change my Beetle.'
So what do you think of new Auris? Take a look at these images from our drive (you can find more Auris pictures here, and all our new Auris content here) and leave a comment below.