Clever new technology, an extended range of efficient engines, and a sharp new look are set to make the 2015 Toyota Auris an even more compelling proposition for family car buyers.
We recently spoke with the man behind the car, Toshio Kanei – who has worked on the development of the Auris both in Japan and Europe – to find out the key new features it possesses.
Toyota Blog: Good morning, Kanei-san. What is your role in developing the new Auris?
Toshio Kanei: I am the project director. Last year, I was a project manager at Toyota Motor Corporation in Japan, where I was working on this car, and at the beginning of January I transferred to Toyota Motor Europe as project director.
We studied the customer feedback for the current Auris, benchmarked against our competitors and we decided the direction for this update.
See more of the differences between the current and forthcoming Auris in this post.
TB: What were your goals for the new Auris?
TK: We wanted to create a more sporty feeling in both the design and the driving dynamics, but we also decided to add a higher level of perceived quality and a more harmonious and balanced feel to the interior.
Cars in this class have evolved their designs and we have done so too. I would describe the interior design of the current Auris as quite horizontal, but we've changed that to create a more three-dimensional, cockpit-like design for the driver.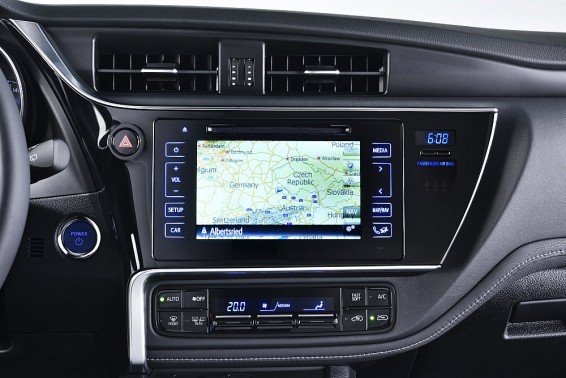 TB: We've noticed that the central media display is quite similar to the one in the Mirai. Is this going to be seen on other future Toyota models?
TK: With interior design, there are several methods that we can use. I can't say for sure that this particular one is going to be adopted across other models, but personally I am happy with it as it looks good and works well.
TB: The Auris now has Toyota Safety Sense. How important is that?
TK: I drive every day, and after having transferred to Brussels, I realised European driving conditions are quite different from Japan. I find Japan really easy to drive in, as it's not so fast – European driving feels more aggressive, with lots of small accidents. Street layouts are more complicated, so people have to brake suddenly more often, so the Toyota Safety Sense system is very good for these kinds of conditions to avoid accidents and reduce the severity of accidents.
This is a very affordable system considering the level of technology in it and the benefits it provides, so we think it's a very important introduction to the market.
TB: How important was it for Toyota to be early to introduce this system?
TK: Toyota's stated goal is to eliminate all accidents one day. One of our competitors has introduced a pre-crash safety system like this in the Japanese market, but no-one else has gone as far as we have here in Europe. As it is an affordable and relatively simple one-box system, we will see the trend of this safety system becoming more common into smaller vehicles, and we will see fewer accidents and mitigate those that do happen.
TB: What is the most important change you wanted to make to Auris?
TK: It's hard to choose, but I would say the 1.2-litre turbo engine. Of course we have hybrid, but Europe is a complicated market and we understood we need a small turbocharged engine and that will make the car even more appealing to the customer.
TB: Would the 1.2 turbo be the engine you'd choose?
TK: Yes, if I were driving a mix of city and outside the city, but personally I do not drive outside of town much so I would choose an Auris Hybrid.