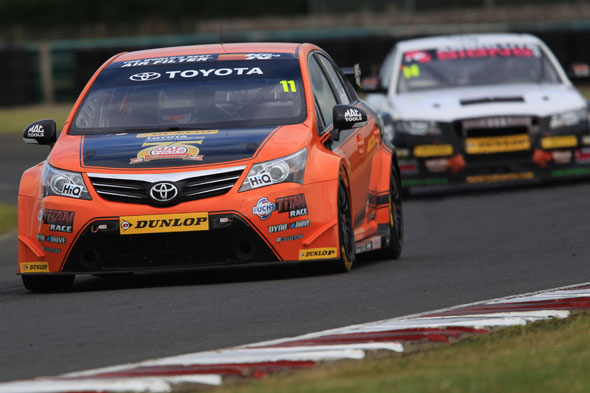 Toyota's four Avensis privateers endured mixed fortunes in qualifying for the latest rounds of the Dunlop MSA British Touring Car Championship season at Croft. After a challenging day on track thanks to changeable weather conditions, Frank Wrathall and Adam Morgan both secured a place in the top 10, but it was a more challenging session for Dave Newsham and Ollie Jackson, who will start the opening race from 13th and 20th places.
Dynojet Racing's Frank posted the best time of the four Toyota men, putting his Avensis on the fourth row of the grid alongside the works MG of Sam Tordoff. His best time was just six-tenths of a second away from pole and came after the team was able to find more front-end grip following a tough opening practice session. "Seventh is a good place to start and I'm pleased with that," Frank said. "I don't think I could really have got more from the Avensis than I did, and we have a few things we'll look at to try to improve it for tomorrow.
"We had a pretty major handling issue in the first practice session and then didn't get a run in the second session. It's a bit of an unknown for tomorrow, as we expect rain. We will have to see what part that will play."
The second practice session had to be halted after an accident involving Adam Morgan's Ciceley Racing Avensis, with the Lancashire driver sliding off at turn one in the wet conditions. His heavily damaged car was repaired in time for qualifying by the hard-working Ciceley crew, and 10th on the grid was an impressive result.
"Massive thanks to the Ciceley Racing boys for getting the car fixed and ready for qualifying as it was a big hit in the second practice session," said Adam. "The Toyota felt OK and I'm happy with 10th on the grid; it's a position from which we can try to move forwards."
Of the Speedworks Motorsport pairing, Dave Newsham emerged as the quicker with the 13th-best time, although qualifying proved to be a session of frustration with several issues affecting his chances. A power steering problem saw him late on track for the session, and a combination of traffic and a red flag late on prevented him from pushing for a quick time.
"I'm gutted with that session to be honest," said Dave. "The power steering issue meant we were late getting out and then I got blocked on my first flying lap. On my second lap, the red flag came out and then when we had the final run, I was stuck with traffic again. If we'd got a clear lap, I'm sure we'd have been in the top 10 but things just went against us."
Team-mate Ollie Jackson also suffered in the session to line up on the 10th row of the grid and will aim to make forward progress when race day gets underway. "Last year, when I was driving the Golf, I think I said qualifying here had been tragic, and sadly it was the same again today," he said. "I set a banker lap early on but then I just didn't get a good lap and I know I could probably have been a second quicker. We'll see what I can do tomorrow."
Sunday's races – live on ITV4 – are due off at noon, 1435 and 1710.