November is Quality Month at Toyota – and this year's event was launched with a special appearance from Michelin-starred chef Michel Roux Jr.
Over the next four weeks, a series of presentations and activities will run at our Surrey HQ, with a focus on ensuring that customers and quality service are always at the heart of work at Toyota GB. Michel is a passionate advocate of customer service, and told TGB staff that for restaurant goers and car buyers alike, "It's service that's so, so important."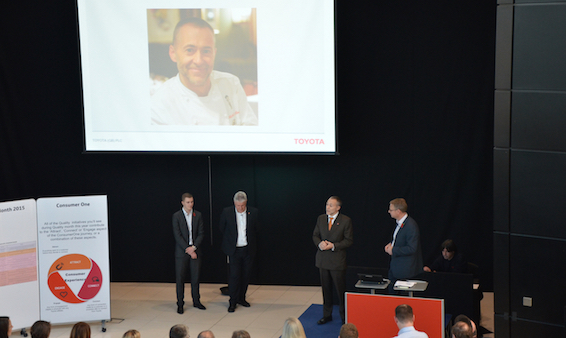 He added: "A customer, whether they are paying to buy a car or to buy a meal, is looking for a quality experience."
"We've all been to a restaurant where the food has been mind-blowing, but the service has been mediocre at best. If the food has been mediocre but the service has been unbelieveable – where absolutely everything is as it should be – you are going to go back to that restaurant.
"It's service that will make you come back."
Michel, who is an ambassador for Toyota's luxury brand Lexus, said it isn't just those staff members dealing directly with customers that are the key to good service. "Great cooking starts with a clean pot," he explained. "So the kitchen porter who cleans the pots is as important as the maitre d'. They may not be seen by the customer, but every person in a business is vital to the experience."
He had some advice for the car industry too. "I think someone should be there to welcome you into a showroom. Having a point of contact is vital," he said. "When you are on the phone, smile! You can tell it makes a difference.
"If I am in a showroom and someone asks me 'what kind of coffee I would like, it shows that they are interested in me and care."
Quality Month is an initiative started by Toyota Motor Corporation 56 years ago. It forms an integral part of the Toyota philosophy of making ever better cars.