Well, that was quite a day. On Sunday night we managed to relax for the first time since leaving the south coast, and on Monday morning we even had a lie in. But on our way to meet Mark, motorway signs started warning of bad weather to come.
We weren't sure it was possible to see worse rain than we drove through on Sunday on the way up to Glasgow, but when the heavens opened this time it was like nothing we'd ever seen. We drew up at Mark's house where the downpour had created flash flooding, and forced something of a Mexican standoff – Alex and me too scared to make the dash to the front door, and Mark not fancying a sprint to the Prius.
Even when the rain finally eased off and we ventured out, there was chaos, with another car losing its exhaust to a deep puddle at the side of the road. With a 650-volt battery pack in the back I briefly considered what would happen if the Prius wasn't designed with this much water in mind. When Mark launched us through standing water that splashed well up over the wing mirrors and the car didn't even flinch, I stopped worrying.
We felt a little sorry for Mark who, given the weather, ended up taking a shorter test drive than we hoped he'd have. Over 11.2 miles his economy was 39.3mpg, but we're pretty sure he enjoyed himself.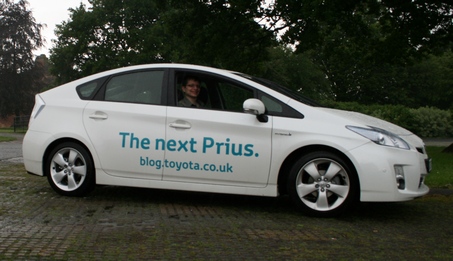 Before leaving Glasgow we paid a visit to Mark's local dealer, Shields Toyota of Hamilton, where Stuart McClaren took us and another member of the team on a quick drive. Both pronounced the new car a big improvement.
Sadly, although we'd tried to get in touch with Marion we weren't able to meet up with her, so we headed south, and eventually out of Scotland, for our next appointment in Liverpool. The rain wasn't finished with us yet, though, building up to an impressive and scary lightning display as we drove the M6 through Cumbria.
Not long before reaching Liverpool, the Prius' fuel gauge was flashing at us and we decided to fill up again. This time Alex managed to squeeze slightly less into the tank, which – given that we'd brimmed it last time – was probably some way off running dry.
As you can see, the weather had changed for the better between Kendall and Liverpool, and by the time we met Sandeep at Lime Street station it was a lovely sunny evening. Sadly, it wasn't all good, as Alex was needed back at Toyota HQ. I waved him off with minutes before his train, and am joined for the rest of the journey by colleague Charlie. With no time for the two of us to catch up, Sandeep directed us on a local's tour of Liverpool city centre, before taking the wheel himself just near the iconic Liver Building.
Charlie and I didn't have anyone else to see, so Sandeep had a chance to take us on a longer drive around Liverpool, taking in the universities, cathedrals and Aintree racecourse before arriving at his place of work. Over the 20.8 miles, he managed a very respectable 58.9mpg, and managed a mostly relaxed pace – something he tells us isn't always the case!
Having dropped off a happy Sandeep, I made use of the Prius' fully-electric EV mode as we headed back into the city. Over 8.2 miles of stop-start driving, it helped me record 82.4mpg.
It's a shame to be leaving another great city unexplored, but this afternoon we have an appointment with Janet in south west Wales, and both Charlie and I are really excited about the drive there. We've decided to take Janet's advice and take the coast road via Aberystwith, which will also take us over Snowdonia national Park. We expect stunning views and lovely driving, but I worry what it will do to our fuel consumption, which last night stood at 70.8mpg over 1,285.6 miles.