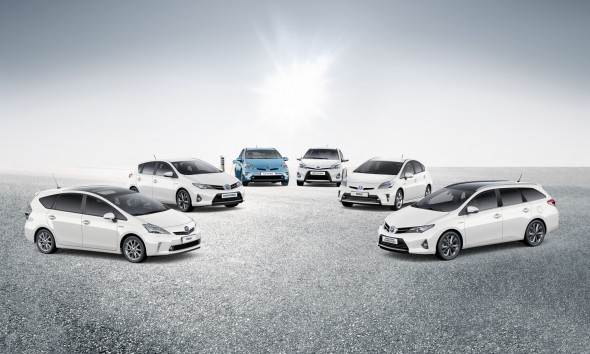 Excellent fuel economy, free VED (road) tax, silent low-speed running, and an easy, relaxing driving experience in and out of the city limits – these are just some of the benefits of choosing a Toyota hybrid. But you probably know that. What you might not know and might be wondering however, is whether the benefits of choosing a hybrid really stack-up in the real-world. We've scoured Facebook and Twitter to show you just that.
It's a common misconception that hybrids aren't good to drive. While it's fair to say that you won't be hitting the track and learning how to drift in a Prius, ala GT86 – you will enjoy the seamless transition between electric and petrol power modes, and the unrivalled simplicity of the continually variable transmission (CVT). It has just two drive modes 'Drive' and 'Brake'; the latter increases engine braking when descending from an incline or approaching a junction.
@TeleMotoring @GoUltraLow great to see @ToyotaGB #Prius #Plugin feature in the video. Excellent driving experience. #lovehybrid

— Neil Cuthbert (@cuthbertneil) June 7, 2014
Let's set aside rising fuel costs and miasma-enveloped cities as reasons to choose a Toyota hybrid for a moment, and focus on desireability. Owners love the look of their cars, and it seems that their enthusiasm is rubbing off on those around them.
//
Our hybrids are also well-specified – all variants of Auris Hybrid and Auris Hybrid Touring Sports for example, come with a rear-view camera, a touch-screen multimedia system, alloy wheels and electric windows all round. Unique 17-inch alloy wheels finished in dark grey are fitted to range-topping Excel models for added visual punch.
@ToyotaGB thanks to Alex Mehmet @toyotakingston for our Auris Excel hybrid with all the trimmings!69mpg whoopwhoop! pic.twitter.com/xa0nmyXx4c

— Steve Farrell (@stevefarrell16) June 3, 2014
Have had the @ToyotaGB a week now and loving it! Handover very smooth – Martin @ @ToyotaSwinton was great & v helpful pic.twitter.com/paUOAG4cT6 — Ben Bradley (@benthesurveyor) May 30, 2014
@ToyotaGB pleased to say I picked up this little beauty yesterday 🙂 pic.twitter.com/52QpTJAtvo — Andy Walker (@andytheeagle) May 29, 2014
Some believe that it is difficult to achieve the quoted economy figures for our hybrids in real-world driving conditions, but, as these owners show, that couldn't be further from the truth. If you already own a hybrid and would like to know how to get the best out of it, follow our simple hybrid driving tips. Be warned though, hypermiling is addictive!
//
//
We're often asked about the longevity of the batteries in our hybrid cars, and their long-term reliability. The batteries are developed to last the lifetime of the car, and we offer a comprehensive 8-year, 100,000 mile battery warranty as standard on all six of our hybrids. These posts concerning first and second-generation Prius models are prime examples of the reliability and lifetime financial gains that hybrid owners can expect.
//
//
Where next?
If you've got a Toyota hybrid, or if you have a question about one of our six hybrid models – share it with us on Twitter using #LoveHybrid.
Further information on our hybrid range is available on the designated section of the Toyota UK website. If you'd like to get behind the wheel of a hybrid, leave a comment below, and we'll be in touch shortly.