Boris Johnson, the Mayor of London, has welcomed news that the Toyota Mirai, the world's first hydrogen fuel cell saloon, is coming to London, as part of his work to pioneer use of cleaner technology for future of the capital's transport and infrastructure.
The mayor visited Toyota's headquarters today during a three-day trade mission to Japan and took the opportunity to test drive Mirai for himself.
Boris Johnson said: "It is fantastic that London will benefit from these new state-of-the-art hydrogen vehicles. By embracing this technology of the future, we aim to consolidate hydrogen's role as a practical alternative fuel for the 21st century and beyond.
"I am sure that Transport for London will provide the ideal environment for us to see everything Mirai can do and, in doing so, take another great step towards improving air quality in our city and protecting the health of Londoners."
The mayor also discussed London's position as a market for alternative fuel cars, with Toyota senior management.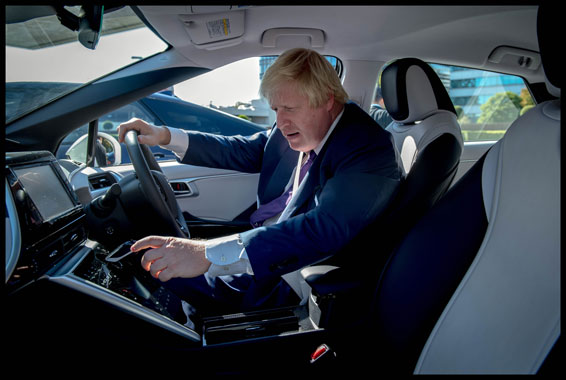 Paul Van der Burgh, Toyota (GB) PLC President and Managing Director said: "We have been delighted to welcome the Mayor of London to our headquarters in Japan to see for himself Toyota's commitment to sustainable mobility. Toyota believes in hydrogen as a key enabler for building a future zero emissions society and we applaud the mayor's commitment to embracing new technology in his mission to make London a leading global city for low-emission, low-carbon transport.
"The success of hydrogen will require constructive dialogue and action, bringing together industry, national governments and city authorities like London to share and develop skills and experience and to communicate the benefits that can be delivered to business and to individuals.
"Our Mirai fuel cell vehicle is a milestone in the history of the motor car and opens up unprecedented opportunities for cleaner, sustainable transport. Transport for London and the city it serves will provide the ideal environment for Mirai to demonstrate the significant potential of hydrogen as a practical alternative fuel for the next century and beyond."
Transport for London sees Mirai as an exciting opportunity that the mayor is keen to exploit. The TfL Mirai cars and the development of a hydrogen refuelling infrastructure are considered important first steps towards the wider adoption of the technology.
Transport for London is in the first group of UK Mirai customers, together with private car service Greentomatocars and hydrogen energy system manufacturer ITM Power.
Details in this article were correct at the time of publication.