Toyota will start the Le Mans 24 Hours race from third and fifth on the grid – following an exceptional performance from its new hybrid racing cars in the event's final qualifying sessions.
Follow the race in our blog post, here.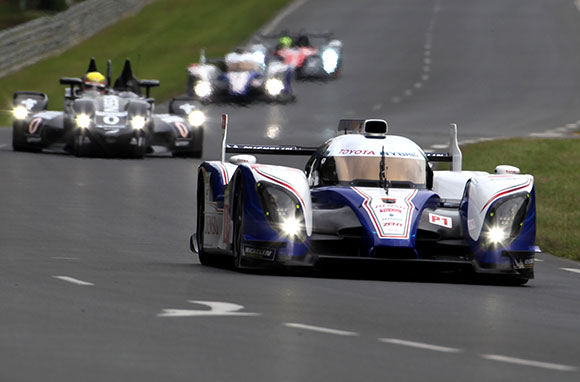 It's the Toyota TS030 Hybrid's first assault on the famous 24 Heures du Mans, and the result (from Thursday 14th June) unfolded in dramatic fashion.
The team's TS030 Hybrid cars took to the track on Thursday 14th June in warm and dry conditions, for the first of two 120-minute qualifying sessions. The drivers pushed hard and quickly improved on their lap times from Wednesday's first qualifying, as set-up improvements and evolving track conditions helped increase the cars' pace.
Both TS030 Hybrids ended the session in the top six, with the number eight car of  Anthony Davidson, Stéphane Sarrazin and Sébastien Buemi in fourth, while the number seven car of Alex Wurz, Nicolas Lapierre and Kazuki Nakajima was sixth.
Repairs to remedy minor electrical glitches were required on both cars between sessions, but the team was ready with plenty of time for the decisive final session.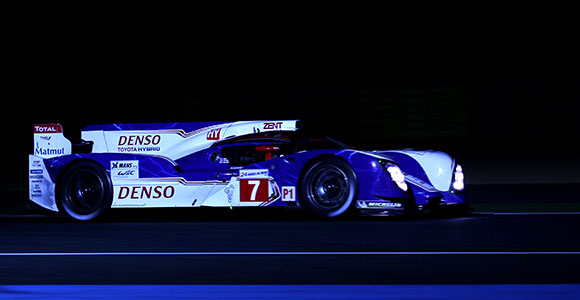 A red flag interrupted the action close to the halfway mark, setting up a grandstand finish in which Anthony and Kazuki saved their best for last with dramatic late flying laps, posted as the clock struck midnight.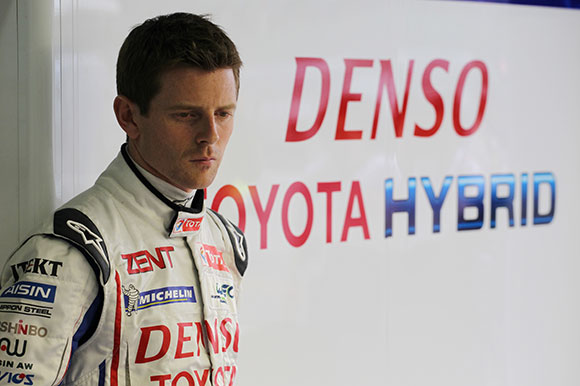 Anthony put the number eight car in third position on the starting grid – just 1.055secs away from pole position – with the other TS030 Hybrid in fifth. Fittingly, the race will be officially started by Takeshi Uchiyamada, Executive Vice President of TOYOTA Motor Corporation, and the man responsible for the  Prius. The action starts at 2pm (BST) on Saturday.
TS030 HYBRID #8 (Stéphane Sarrazin, Anthony Davidson, Sébastien Buemi)
Qualifying 2: 4th (3mins 26.151secs), 23 laps
Qualifying 3: 2nd (3mins 24.842secs) 28 laps
Grid: 3rd
Anthony Davidson: "After this qualifying session, I feel that we almost got
everything possible from the car. I did a good lap and I think we can be happy
with what we achieved. I am still very new at the wheel of the TS030 HYBRID and
I am going faster and faster; the car is nicely balanced and I feel comfortable
with it. I am really looking forward to the race, to see what we can do; I hope
we will have a reliable car. I think we surprised some people as we are so close
to pole position and I actually still think that we have a stronger race car
than a qualifying car. Le Mans is very a tough race but if we have no problems,
if all is going well, we can be on the podium."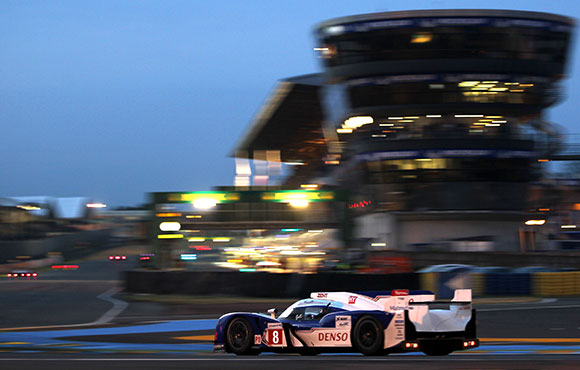 TS030 HYBRID #7 (Alex Wurz, Nicolas Lapierre, Kazuki Nakajima)
Qualifying 2: 6th (3mins 26.502secs), 21 laps
Qualifying 3: 4th (3mins 25.488secs) 28 laps
Grid: 5th
Kazuki Nakajima: "It was a fantastic experience for me to have the chance to
attack with the new tyres. I was a good feeling and I really enjoyed it, apart
from the traffic. But we knew the traffic would be less at the end because the
others started to pit. Our strategy was really good; I only had one car to deal
with in the last sector and I only lost a little time. It's great to see Anthony
getting into the top three, as well as having both TS030 HYBRIDs in the top six
for our very first race. I think we can have a good race tomorrow and hopefully
we can finish it with no problems. Big thanks to the team because we got over
some difficult times to get here. We had a bit of problem in between the
qualifying sessions but we got back on the track and could compete hard with
Audi. It was a big, big team effort."