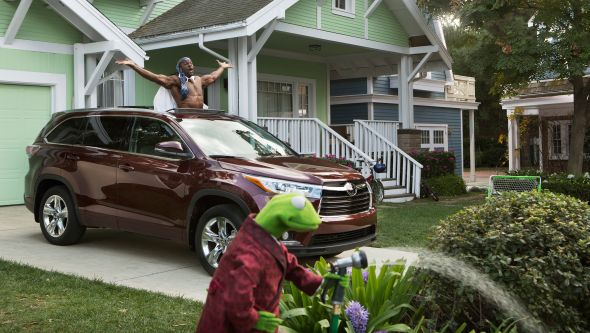 Audiences are in for a wild adventure next month when Toyota and the Muppets join forces for a zany Joyride during America's Super Bowl ad break.
With viewing figures that regularly exceed 110 million within North America alone, advertising slots within the Big Game reach more eyes than almost any other worldwide television event and have become a cultural phenomenon.
Entitled Joyride, this 60-second broadcast is twice as long as most adverts in this prime time slot. It celebrates the all-new 2014 Toyota Highlander sports utility vehicle and the Muppets' latest big-screen adventure Muppets Most Wanted.
A trailer for the advert can be seen below. But without giving too much away the Muppets will use their over-the-top personalities to teach ex-NFL player and TV personality Terry Crews a thing or two about 'unborifying' his lifestyle as they borrow his fun-ctional Toyota Highlander.
The spot features humorous hijinks, dancing, surprises, a centre console full of chickens and, of course, an original song. What else would you expect from a high-energy Muppet caper?
In addition to the commercial, the Muppets will be providing real-time updates as they travel to the Big Game in their Toyota Highlander on 2 February. Fans are invited to chat live with the Muppets on game day by tweeting @Toyota or using the hashtag #NoRoomForBoring.
[youvid embded='t' vid='jjmwdLM478A']