A couple of weeks ago we wrote about what a hybrid car is, and about the other types of fuel-saving technology manufacturers are using. But while hybrid power is popularly considered to be a "new" technology – perhaps only catching the public imagination since the worldwide launch of second-generation Prius back in 2004 – in fact Toyota's research and development of hybrid goes back more than 40 years. Here we look at Toyota's hybrid heritage.
Even the engineers working on the hybrid power project back in 1965 could hardly have imagined their efforts would lead to the accomplishments of the all-new Prius. Today hybrid power is proving its worth out on the streets and, arriving on the back of more than a million worldwide Prius sales, the third-generation model is ready to deliver even higher performance benefits from the latest iteration of its Hybrid Synergy Drive system.
Long before arrival of airbags, ABS and climate control, Toyota was looking at how a hybrid system combining two energy sources could be used to power a vehicle. Those early studies were based on gas turbines powering an electric drive system, a concept that was successfully applied first to a prototype bus in 1969 and, six years later, to the Century, Toyota's Japanese flagship limousine.
Such a high-profile showcase was a clear signal that the company had long-term ambitions for the technology, but at that stage hybrid was more about technical ingenuity rather than sustainable mobility. Environmental awareness was yet to become an industry-defining issue.
Eco-considerations did however figure in Toyota engineers' development of hybrid version of the tiny Sports 800 sports car (below), created on the theme "performance with respect for the environment". It's this philosophy that Toyota has continued to develop all the way through to today's new Prius.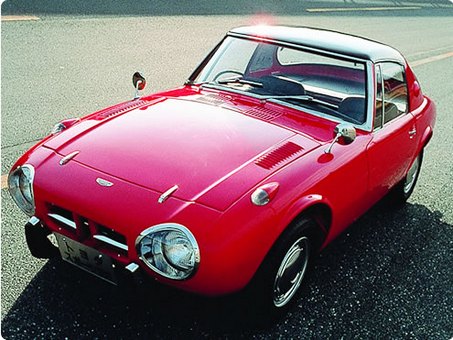 In the next 20 years Toyota refined its vision of hybrid, and extended its design and engineering skills to create a new means of powering vehicles that would have less impact on the environment, use fewer natural resources and serve as a major technical advance towards the company's goal of building the ultimate eco-car.
At the same time, it recognised that if it was going to be competitive in the marketplace, using hybrid power couldn't be at the expense of the practicality and driver rewards that customers expect from their car. Pricing, too, would be crucial.
The Prius is born
Could Toyota square the circle? It's no surprise that the gas turbine was set aside in favour of developing a system in which an internal combustion engine works with a compact but powerful electric motor and high-capacity battery. Toyota also focused on maximising efficiency not just in the engine and transmission, but in clever design that saves weight and reduces aerodynamic drag.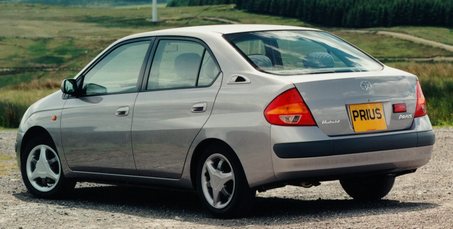 In 1997 the concept became reality when Toyota launched Prius (seen above in its Japanese-market specification), the world's first production hybrid passenger car (the Coaster HV minibus just pipped it to the title of first production hybrid vehicle) and a landmark in the history of motoring.
Prius' Toyota Hybrid System (THS) powertrain was radical, but robust. The motoring world had seen nothing like it and it was soon gathering awards around the world. Even today, its headline performance figures are respectable: 55.4mpg combined cycle fuel economy, 120g/km CO2 emissions and 0-62mph in 13.4 seconds. It looked quirky, everyday motorists were initially baffled by the technology and experts were divided on whether hybrid had a commercial future, but Toyota was confident it had achieved a significant and lasting breakthrough.
Even before Prius reached the showrooms, other car manufacturers had woken up to the fact that hybrid power had serious market potential, but none could match Toyota's breadth and depth of experience. Such was its advantage, it was able to expand its hybrid programme, long before any of its rivals were able to muster serious competition.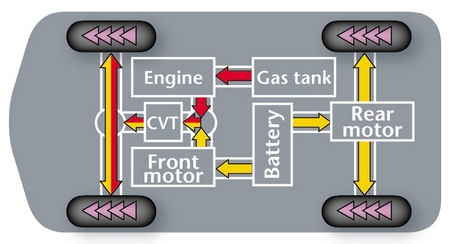 In 2001 the Estima MPV – or Previa as we know it in Europe – became the first hybrid with four-wheel drive (above). It bristled with hi-tech features, including the world's first by-wire braking system. This was soon followed by a "mild" hybrid (a system where the electric motor works only boost the petrol engine's performance) version of the luxury Crown.
By 2003 and the Japanese launch of the second-generation Prius, Toyota had launched six further hybrid models, three times more than any other manufacturer. And with its new-generation Prius it set the benchmark even higher: with even better fuel economy and lower emissions from the new Hybrid Synergy Drive system and a design that ticked all the boxes in terms of aerodynamics, visual appeal and user-friendly proportions.
Turn the clock forwards six years and the stage is set for the latest chapter in Toyota's hybrid heritage: the next Prius.
Toyota Sports 800 image courtesy Toyota Automobile Museum