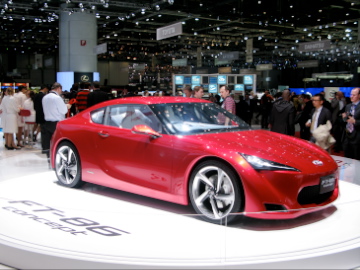 If the Auris HSD represents Toyota's hybrid technology expertise, then there's one car at the Geneva motor show that confirms the company's commitment to producing driver-focused performance cars: the FT-86 Sports Concept.
Our whirlwind trip to the show gave us the chance to see the car first-hand  – provided we could push our way through the crowds, of course! Clearly, there is unrelenting interest in the concept, and it's not just us who think so.
The reasons? Try a front-engine, rear-wheel drive format wrapped in a lightweight, compact body. If this sounds familiar, then it's meant to. The FT-86 is the spiritual successor to the iconic Corolla AE-86 and draws inspiration from the legendary MR2, Celica and Supra. That's some heritage.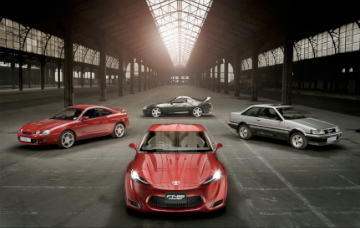 Make no mistake, though, the FT-86 isn't just about looking back to the past. This is a striking vision of the future that comes complete with a free-revving 2.0-litre petrol engine, a six-speed manual gearbox and 19-inch alloy wheels. While no more details have been announced, we promise to keep you updated on the latest developments when they happen.
Update 5/3/10: we've now added more images of the FT-86 and other stars from Geneva to Flickr.