What better way to begin my journey to Geneva to see the launch of Toyota's new hybrid than in Toyota's award-winning hybrid star, the Prius? A sprightly driver picked me up in one of the Green Tomato Cars at 4am, and off we set for Gatwick.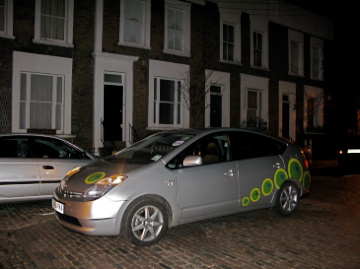 After a straightforward flight, we make our way to Hall 4 and the Toyota stand. We are greeted at once by the gleaming FT-86. It's early, but already the new Toyota sports car is garnering significant attention. It's not hard to see why: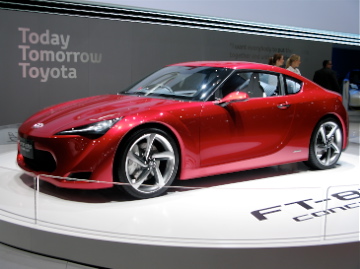 Tearing our eyes away from the stunning FT-86 and making our way across the huge Toyota stand, we see plenty of familiar faces – Prius, Yaris, iQ – all in sparkling white. However, the star of the show – as well as the now crowd-makingly popular FT-86 – is the new, production-ready Auris HSD, with revolving models adorning each end of the stand.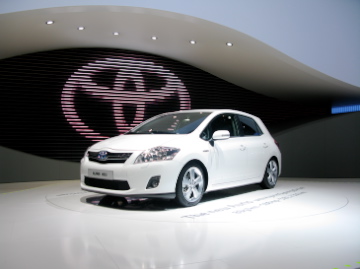 Auris HSD isn't the only showcase for Toyota's hybrid developments. In fact, the stand features a dedicated hybrid section – the Hybrid Synergy Drive Gallery – which is tucked away behind the main façade and bathed in blue light. The Gallery features an FT-EV II (making its European debut), cross-sections of Prius and a fuel cell hybrid vehicle (FCHV), and a fascinating 'Evolution of Prius' display. This presented the four generations of Prius hybrid battery (the fourth being the lithium ion battery used in Prius PHV), side-by-side. The visible differences in size and shape of these remarkable pieces of technology alone show just how far Hybrid Synergy Drive technology has developed, and how quickly. I'm in awe.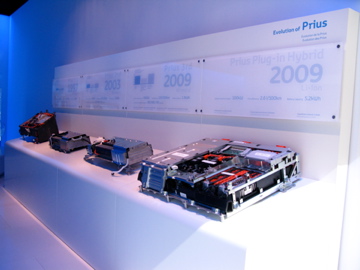 We get time for one more lingering look at the FT-86 up close, and then it's time for the press conference. Senior Vice President of Toyota Motor Europe, Andrea Formica, delivers a positive and upbeat speech, first touching on the recent recalls before introducing the FT-86, 2010 Auris and Auris HSD, and 2010 RAV4. There is a real feeling of forward-looking optimism.
Our plane awaited, and so on that positive note, we departed the Geneva motor show. The strong hybrid presence at the show tells us that the technology is already big on the agenda. Launching Auris HSD may only be Toyota's first step towards incorporating Hybrid Synergy Drive across the full range, but we can be sure that there are big strides ahead.
Update 5/3/10: All our photos from the show can now be found on Flickr.