When we spent a day at the Geneva motor show this week, all eyes were on FT-86 – almost. Toyota's new full hybrid, Auris HSD, made its first European appearance at the show and was admired just as much as the new sports concept.
Built in Britain, Auris HSD features Hybrid Synergy Drive technology – the same technology used in the award-winning Prius. However, it is the first of Toyota's core model line-up to feature this powertrain, a move that marks the first step in the deployment of HSD technology across Toyota's entire European model range by the end of the decade.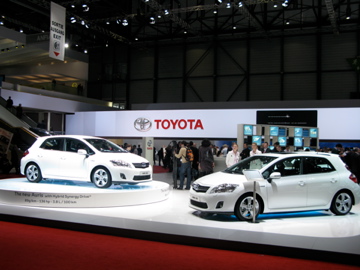 Each of the eight petrol, diesel and HSD models in the 2010 Auris range share the same revised exterior and interior styling, with Auris HSD receiving a few hybrid-specific tweaks. These include a redesigned grille and bumper for increased aerodynamic efficiency, and Energy Flow and Eco Drive monitors inside. Like Prius, Auris HSD features a 1.8-litre VVT-i petrol engine and four driving modes (including EV mode, which enables driving using electric power alone).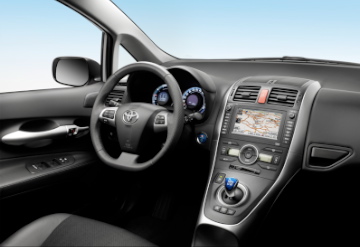 Segment-beating fuel economy of 74.3mpg (combined cycle) and CO2 emissions of 89g/km only add to the appeal. In fact, with the incorporation of Hybrid Synergy Drive and Toyota Optimal Drive across the 2010 range, Auris will be first Toyota to comply with Euro 5 emission standards across the entire model range by July 2010.
One thing's for sure: 2010 Auris is a truly unique and exciting addition to the C-segment.
Update 5/3/10: All our photos from the show can now be found on Flickr.
Auris HSD is scheduled to go on sale in the UK in July. Further details of performance, technical specifications, model grades and equipment features will be announced at a later date.