Our intrepid Toyota Verso seven-seater has already tackled the sports of ultimate frisbee and quidditch, and for its final encounter with a seven-member sports team, the practical MPV spent the weekend with the Manchester Handball Club (MHC) in its biggest challenge yet as it transported the Mens Super 8 team to its away game in London.
As well as contending with a mix of motorway cruising and urban driving, the Verso also had to ensure that the team arrived fresh and ready to go after the long journey.
Handball blends aspects seen in other sports – the England Handball Association describes it as 'water polo without water, lacrosse without sticks, football using your hands' – and players develop a broad range of motor skills that are put to use on the pitch.
Likewise, the Toyota Verso is multi-talented, blending the most useful aspects of other cars into one versatile package; it combines the loadspace of an estate, the occupancy of a seven-seater, the comfort of a standard saloon car and the specification of an executive model.
For goalkeeper Zsolt Deak, this was the Verso's main attraction: "It is great to be able to have 'normal' family car that has the added extra of being able to carry more people when you need it, saving you time and money while it's also more fun travelling all together. I would definitely use it for family and friend outings and handball trips!"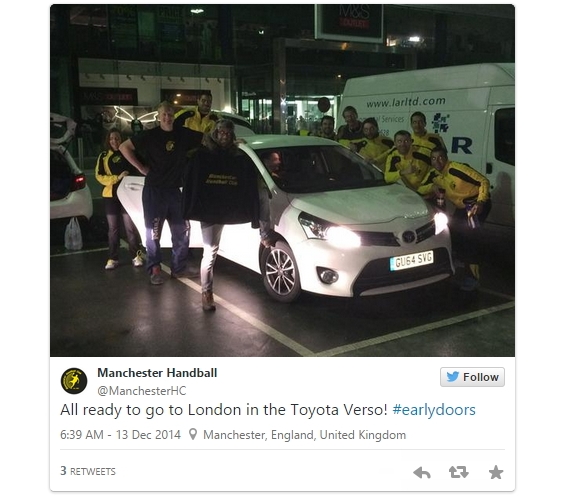 First on the agenda was delivering the elite athletes to the Mayesbrook Park in Dagenham. Minas Georgiou, MHC's nominated driver for the weekend, was very impressed with the Icon-grade Verso: "Even with seven people in, the ride was smooth and the car felt powerful still."
'It is great to be able to have normal family car that has the added extra of being able to carry more people when you need it.'
– Zsolt Deak, goalkeeper
Clearly the Verso's 130bhp 1.6-litre petrol engine is more than capable of hauling seven adults and their luggage without any problems. Paired with a six-speed manual gearbox, it's economical too – the Verso 1.6 V-matic here achieves as much as 50.4mpg*, making it ideal for motorway cruising.
Zsolt was able to give some insights into the Verso's charms from the perspective of a family man: "We have family in Hungary and we do find transport difficult when they are visiting us. I found it great that you can have a big family estate car in our everyday life which we can turn into a 7 seater when we've got visitors; currently we are having to travel in two cars when they are here."
Thinking of the kids, he added: "I also like the tinted windows in the back as it's great to protect the kids from the sun."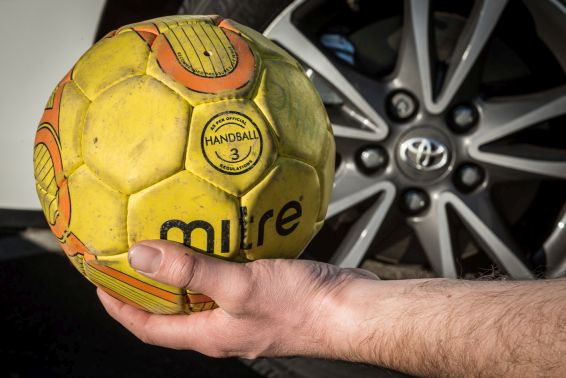 Arriving safe and sound at the venue, it was down to business for the Super 8 team. Many people aren't aware of the popularity of handball outside of Britain – it's the second most popular team sport in Europe – but its appeal is easy to see from the off.
As in football, the objective is to score more goals than the opposition, and the basic rules governing the game are easy to pick up. They also contribute to a game that is fast-moving and exciting for players and spectators. You could easily pick up a ball and start learning the game at your local park or sports hall, with no need to spend out on expensive extra equipment.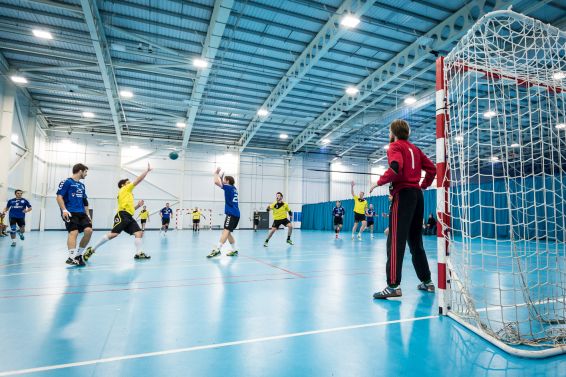 Appeal is key to the Toyota Verso too, as Zsolt explains: "It's modern looks, equipment level and versatility are the main appeals." All Verso models come with high levels of standard equipment, so there's no need to spend out extra just to get the essentials.
The Verso Icon seen here has a standard specification that includes cruise control, dual-zone air-conditioning, privacy glass, Bluetooth connectivity and DAB radio in its £20,300** on-the-road price, with the freedom to choose extra features like the Skyview panoramic roof or Touch 2 with GO navigation system should you wish.
If you get the opportunity to have a go at handball, we'd thoroughly recommend doing so. A great place to start is at the England Handball Association's website, where you'll find a directory of clubs across the country. Discover firsthand why handball is one of the most popular sports in Europe – you'll be pleasantly surprised at how involving and enjoyable the sport is.
It's just as easy to experience the Verso too. Head down to your local Toyota dealer for a test drive – details of your nearest centre are on the Toyota GB website – or leave a comment below and we'll contact you to arrange a test drive. The Verso's broad appeal, fantastic adaptability and rewarding drive make it suitable for all lifestyles and people – all you have to do is try it!
* Official extra-urban fuel economy figure.
** Prices correct at time of publication.