If you were planning on traveling 1,300 miles, including tackling snow-laden roads in the Alps, which Toyota would you choose? You're probably thinking RAV4 or Land Cruiser. How about Toyota Yaris wrapped in desert camouflage-inspired livery? That's exactly what the Clydebank Post's Andrew Gibson and Stewart Robertson used for their entry in the recent Monte Carlo rally in aid of Help for Heroes.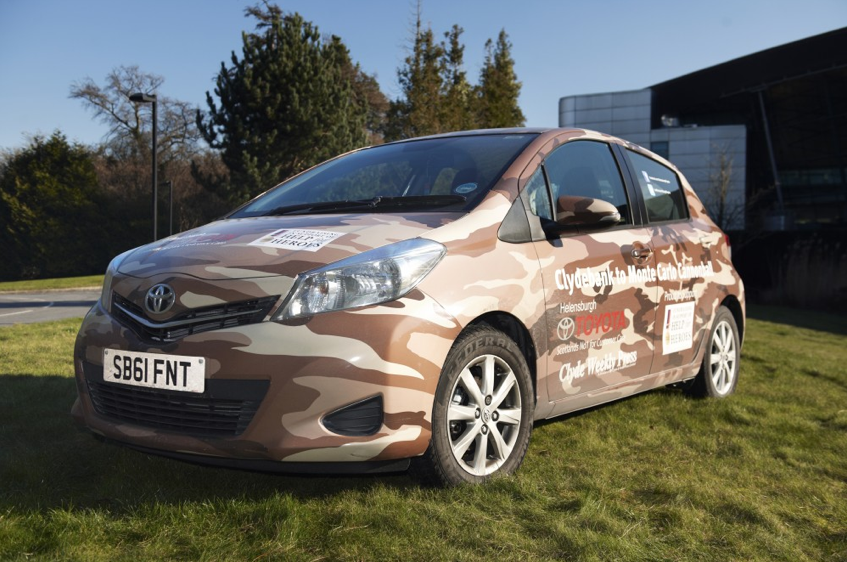 If you're a fan of the Toyota UK Facebook page, you may have seen a number of updates from Helensburgh Toyota, the official centre that provided the car, as they kept pace with the duo's intrepid progress.
On their way back from successfully completing the rally, the Help for Heroes team stopped by Toyota GB HQ in Burgh Heath, Surrey, to be presented with a cheque by Thomas Roselle, Manager for Corporate Social Responsibility and Environmental Affairs.
Toyota GB (TGB) launched its Fund for a Better Tomorrow last year. It encourages and supports community projects in collaboration with local Toyota Centres and their staff. Helensburgh Toyota is very active in its local community and Andrew and Stewart were presented with a cheque for £2,175 from Toyota GB to add to the £1,904 they had already raised.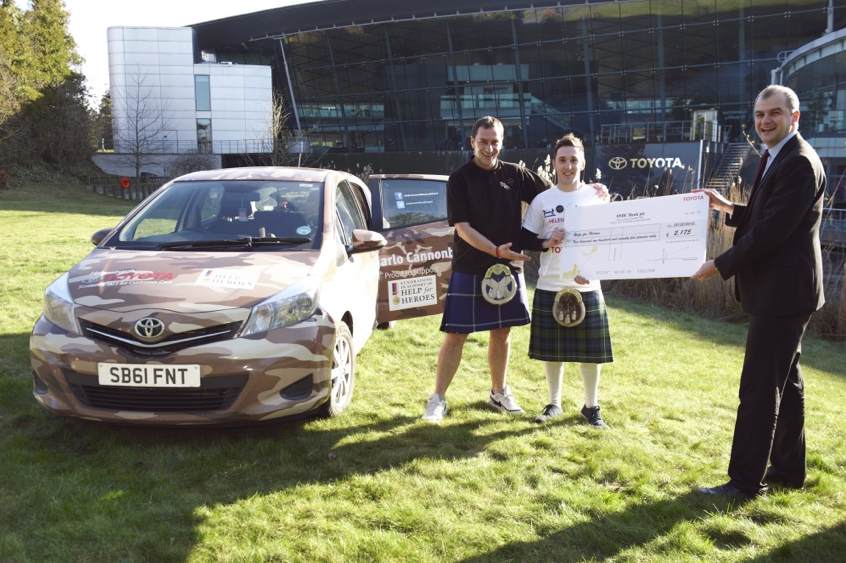 "The Clydebank to Monte Carlo Challenge is a remarkable example of what can be achieved when local businesses such as Clydebank Post and Helensburgh Toyota team up together to support a cause that matters a lot to their community," said Thomas. "We've established the TGB Fund precisely to encourage such activities at local level and we are delighted with the outcome."
And how did the 2012 Yaris fare? Andrew said: "The satellite navigation proved to be a godsend when we were driving through the Alps in very bad weather and roads all around us were being closed. It was able to re-route us each time until we reached our destination. The Yaris coped admirably during the heavy snowfalls we experienced."
Helensburgh Toyota's Gary Mulvaney said: "We are delighted to play our part in the great historic event. As a local business, we are always keen to support our community and felt that with such a large number of forces and their families in our area we should do something."
Have you taken on a journey against the odds in your Yaris? Perhaps you've used your Toyota to help raise money for charity? Let us know by leaving your comment below.