All around the world, you'll hear some of the best music being played live on the street. To celebrate the talents of the world's best buskers, Toyota is launching a global street music initiative, Feeling the Street.
For the next eight weeks, street musicians can upload original videos of their music-making to the site. Visitors can then choose their favourite performers, helping select six individuals to make up a new Global Street Band.
The competition has three phases: –
Enter and vote: musicians can enter by submitting an original video that captures their skills, playing an original song live in a street location. A global online audience will then vote by throwing money in the (virtual) hats of the musicians they like best.
Pick your band: from May to June, the audience will be able to pick a combination of six of the favourite artists they would like to see working together.
Taking the band on the road: In June the winning musicians – the new Global Street Band – will travel to New Zealand for a nine-day nationwide tour, culminating in a live showcase gig on stage. They will be joined by six lucky audience winners who will travel with them as roadies.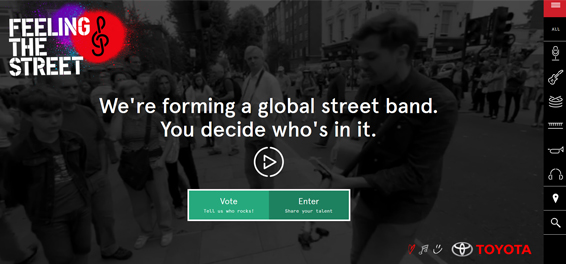 Here's how people can find out more and become involved: –
Official hashtag: #feelingthestreet
Official website
Facebook
Twitter
Instagram
YouTube