[slider_pro id="111″]
Toyota knows all about pressure at Le Mans, because it's a race the company has been trying to win for almost 30 years, writes Damien Smith, Editor of Motorsport Magazine.
And this year, success looks tantalisingly close… You can't get better than two out of two. But ask anyone at Toyota Racing whether they'd trade their victories in the opening rounds of the FIA World Endurance Championship for a win at the third, and I bet they'd bite your arm off.
See also:
Expert's view: Toyota and its chances for Le Mans 2014
Expert's view: Toyota's hybrid efficiency key to Le Mans success
Toyota TS040 In Focus: Wraps off our new car
Toyota TS030 In Focus: Le Mans 2013
Toyota TS020 In Focus: The GT-One
Toyota TS010 In Focus: Our first Le Mans prototype
Success at the six-hour races of Silverstone and Spa will mean a lot to the Cologne-based squad. But victory at the Le Mans 24 Hours? That would mean everything.
Why? Because in the world of motorsport, no other single race is bigger or more important than Le Mans. Its history, global status, sheer duration and the physical size of the circuit itself all add up to one simple fact: the 24 Hours is the Big One.
For the past two years, Toyota's petrol-powered hybrid prototypes have been contenders for victory, only to fall short. So third time lucky? Well, on the back of those Silverstone and Spa wins – both of which can be accurately described as dominant – Toyota must travel to the Circuit de la Sarthe on June 14/15 as the race favourite.
That status adds pressure – as does the company's historical performance.
After success in rallying and domestic endurance racing in Japan, Toyota first entered Le Mans in 1985 at the height of the Group C era, taking on the likes of Porsche, Jaguar, Sauber Mercedes and significantly Nissan. The race was on for the honour of the first Japanese car manufacturer to win the world's biggest race.
But neither Toyota nor Nissan would claim that crown. In 1991 Le Mans delivered one of its biggest shock results when Mazda defeated a trio of Jaguars to reach the summit. It remains the only victory at the race for a Japanese manufacturer.
Since then, Toyota has come close to changing that, on more than one occasion – only to taste bitter disappointment.
The year after Mazda's win, Masanori Sekiya, Pierre-Henri Raphanel and Kenny Acheson took the TOM'S TS010 to Toyota's best Le Mans finish: second, albeit far behind the winning Peugeot 905.
A year on, Peugeot ended the Group C era with a dominant 1-2-3 at the race. But with the French company out of the picture in 1994, Toyota's SARD-run 94CV prototype had a great shot at breaking the duck.
Future Ferrari F1 driver Eddie Irvine, Mauro Martini and Jeff Krosnoff came within an hour and a half of victory, only for a gear linkage problem to cause heartbreak. Irvine charged back into the race, but another second place was the best he could salvage.
The end of the 1990s are remembered as halcyon days at Le Mans as the race finally recovered from the demise of the popular Group C formula. Porsche, Mercedes, Nissan, Audi and BMW all entered full factory teams at the 24 Hours – and so did Toyota with its stunning GT One.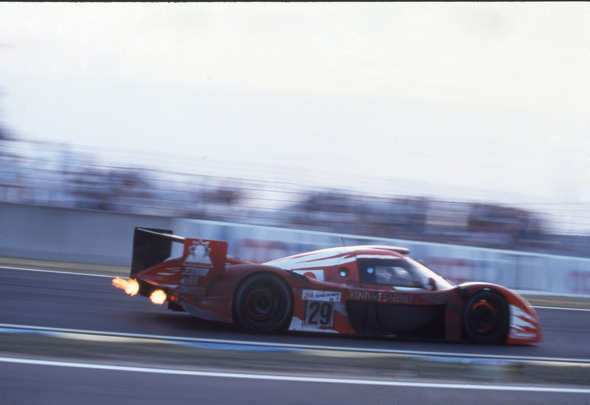 The car was classed as a GT despite its pure-bred prototype appearance, and almost won on its LM debut in 1998. But a familiar story played out. After a fierce battle with the Porsche 911 GT1s, Grand Prix winner Thierry Boutsen, Geoff Lees and Ralf Kelleners were heading for victory – only for the gearbox to fail in the 23rd hour.
A year later, the GT One returned as the car to beat. This time, surely.
It was looking good when Martin Brundle delivered Toyota its first pole position at Le Mans, in a year of unmatched interest from the world's car manufacturers. But his race would end in the guardrail after a tyre explosion. Then at 3:00am veteran Boutsen crashed out in the other GT One after a collision with a backmarker. The impact at the fast first corner left the Belgian with career-ending back injuries, and Toyota with another defeat in its last Le Mans before heading to F1.
More than any other example, that devastating race of 1999 will serve as a stark warning to the modern Toyota Racing team.
Building on what was achieved with the TS030 model, the V8-engined TS040 and its potent 6MJ super-capacitor hybrid system has the perfect blend of horsepower and traction to soar around the 8.4-mile Circuit de la Sarthe. Silverstone and Spa are proof already that rivals Audi and Porsche are playing catch-up.
But favourite status will mean nothing if the pair of Toyotas can't beat their most prominent rival of all this June: the race itself. Every Le Mans winner knows that getting to the finish with as few delays as possible is the first priority. Only then can one think about rivals in other teams.
Toyota Racing is match-fit after two promising years in the WEC. But accidents and car failures brought the team up short in both 2012 and 2013. Hard lessons have been learnt – added to those recalled over the course of nearly 30 years.
This time, Toyota looks ready to claim the sweetest reward of all. Then again, that's what we said back in 1999, too. Nothing can be taken for granted at Le Mans.