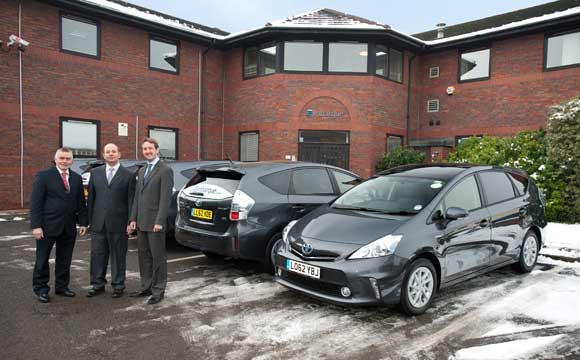 The full hybrid Toyota Prius+ MPV has earned top billing with  an international executive minicab service thanks to its winning combination of seven seats, top quality and ultra-efficient performance
Embarque has snapped up 22 seven-seat Prius+  for its fleet, supporting its carbon-neutral business philosophy.
Embarque strives to minimise the impact of its business on the environment. For example it sources almost a third of its London HQ's electricity from wind farms. Prius+, which provides seven seats but  comes with CO2 emissions of 96 g/km and 68.9mpg combined cycle fuel consumption, made a perfect fit with the company's eco-focus.
Greg Mendoza, Embarque's Managing Director  said: "We are serious about our responsibilities to our customers as well as the environment.  Once we identified the Toyota Prius+ as the ideal private hire vehicle, due to its outstanding environmental credentials, excellent passenger and luggage capacity, as well as its high levels of safety and comfort, we had no hesitation in deciding that we would replace our entire fleet."
Prius+ uses a compact and powerful a lithium-ion battery that's located neatly in the space between the driver and front passenger seats. This means there is no loss of load space in the rear. And being a full hybrid, Prius+ can be driven on electric power for certain distances at low speed, which means zero tailpipe emissions an no wasted fuel.
All the Embarque vehicles are grey T4 grade models, supplied by Currie Motors Business Centre in Twickenham. Standard features include cruise control, automatic air conditioning, a head-up display and panoramic roof with automatic sun shade.
You can read our other posts on Prius+ here or find out more on the Toyota website.