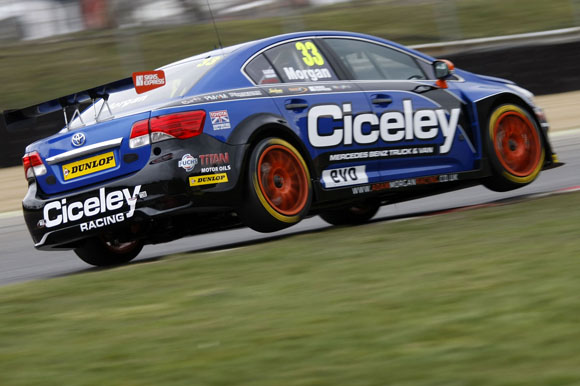 Toyota's BTCC independents return to the fray at Donington Park at the weekend (20/21 April) looking to build on their encouraging start to the new touring car season at the home track of the Avensis. All four of the Toyotas fielded by the Speedworks, Ciceley and Dynojet teams began their lives 10 miles away from the track, at the Burnaston plant.
It is Ciceley's Adam Morgan who leads the Toyota quartet to Donington thanks to his hat-trick of top-10 finishes in the season openers at Brands Hatch late last month. It was a remarkable BTCC debut for Adam's family-run team, culminating in the Lancashire 24-year-old's maiden Independents Trophy victory. Morgan holds championship sixth.
Adam puts his Brands success down to more confidence in his Avensis and in his driving: "The Toyota is quite different to last year's car and I feel a lot more comfortable, a lot more relaxed. I have a year under my belt now, and everything is coming together. We went really well at the Donington test last month; it was hard to tell what the other teams were doing, but it was a great confidence boost to come out fourth quickest. The plan for the weekend is to keep on scoring points, keep it on track, and keep the points ticking over."
Dynojet Racing driver Frank Wrathall, 26, feels he did not make a bad start to his Dunlop MSA British Touring Car Championship bid at Brands, but he's hoping for an improvement, and a trio of good points-scoring finishes at Donington: "We are well prepared for the weekend – we have already tested twice at Donington pre-season and personally I am up to speed with the track, and have been quite happy with the car both times we have been there. I think that we may have taken a bit of a step forward with the set-up at Brands Hatch, which we hope will translate to Donington, but we'll not know for sure until we get some running under our belts there."
There's no doubting the pace of the Dynojet Toyota – it was at or near the top of the speed trap league in qualifying and in each race at Brands Hatch. Power counts for even more at Donington, and the Avensis should be strongly competitive. Frank, who holds championship eighth, adds: "Donington is a track I generally go well on, and it's always special when you drive past the Toyota sign on the way to the circuit…"
The arctic weather at Brands Hatch played havoc with the efforts of the two new signings to the Speedworks Motorsport team, Dave Newsham and Ollie Jackson, both of whom suffered car-bending offs as they struggled to get heat into Dunlop's new soft 'option' tyres. "It was a bit trying and a real shame," said Inverness-based Newsham. "We had good pace but no luck. The cold tyres did for us, and caused me a couple of spins. I didn't anticipate going to Brands and coming away with two DNFs – the plan was to try to get through the whole season with only two DNFs, so that's going to take some doing now. I hope to qualify well at Donington and to get three solid finishes up at the sharp end."
Dave claimed only one points-scoring finish from the three Brands races, as did his Norfolk-based team-mate Jackson.
Adds Ollie: "It seems we were heating up the front tyres quickly while the rears weren't doing anything. Dave and I both had the same problem at the same corner on the same lap of the race, I believe. It's just unfortunate; there's no way that we could really have foreseen that. So, the outcome wasn't very good, but there were lots of positives in terms of pace and the car, so I'm hoping to carry those forward into Donington and am looking forward to seeing what we can do."
Sunday's race action at Donington gets underway at 11.35; all three BTCC races will be shown live on ITV4 and itv.com