Following on from our overview of the students at the Royal College of Art who are taking part in the iQ Design Challenge, This is iQ takes a closer at the candidates and their inspiration – today we're in the bedroom.
The competition is split into four parts, with each offering its own unique challenges, and in the bedroom category the students were thinking about how to create a relaxing mood while still being careful in their choice of materials.

Elizabeth Beaumont's Bloom is the product of an idea she has had for a while, of creating a living and breathing space which reacts to movement, where the wall changes from a 2D surface to a 3D interactive landscape of flowers.
"Because it responds to your movement, it could be a comforting thing, a feeling of company – that something else is there if you are on your own," she says.
"It feels like it's breathing – there's a living quality to it and people respond to living things."
And while the concept can create an intimate and organic feel in the house, constructed textiles student Elizabeth has grander plans for her idea, imagining long corridors brought to life by her design on a bigger scale.
"I feel there are a lot of missed opportunities in the city at the moment," she adds.
"I would like to see thousands of these in huge spaces, reacting to people."
The Pack Lamp concept is simple and potentially revolutionary – instead of throwing away the packaging, it doubles as the housing for the energy-saving bulb itself, acting as stand and shade in one.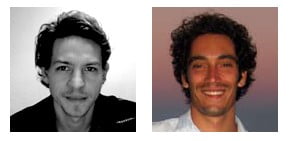 Design Products student Jonas Trampedach, who came up with the concept with fellow student Romain Jeantet, says the idea is to maximise the benefits of the new generation of bulbs by using a packaging material impossible with the old Edison bulb which became too hot.
"The light bulbs are quite expensive which keeps a lot of people from buying it – so we thought we would do a lamp which balances the cost of the bulb."
And it is important to the ethos of the design that the lamp is ready to use just as it is bought in the shop.
"I wanted to do a lamp which you buy complete," adds Romain.
"For us it was important to make a project that makes sense and is honest."
Some of the best designs come out of a solution to a personal annoyance, and this is very much the case for Kristina Hofmann with her Hide and Seek Curtain, which allows different perforated sections to be peeled away to give the perfect view.
Kristina, who is studying Communication Design, hit on the idea while looking from her own window and wishing she could look at a nearby park without also seeing a council estate.
"The product design came out a very practical thought," she says.
"Every morning I wake up to an aggressive traffic warden in Hackney, and I think 'I don't want to see this'.
"You can embrace what you want to see, but hide what you don't want to see."
And when the view gets boring, the blind can be pulled down, torn off, and a new scene revealed, like a kitchen roll.
The four category winners, along with an overall winner are set to be announced on January 15.
This is iQ will have details of the designers who've made the final shortlist for the other three categories – living room, garage and kitchen – early next week.