Being lost and alone in the desert for most people would be the stuff of nightmares, but for Thierry Sabine, a passionate motorcycle racer, that time of isolation while competing in the Abidjan-Nice rally, in 1977, would be a moment of inspiration…
On 28 December the following year, his vision in the desert became reality as the flag dropped on his own race – a race that would go on to run for over 30 years, that started as a fun challenge against other amateur enthusiasts to cross the Sahara desert, and is now the most severe, most demanding rally there is. The Dakar Rally.
'I can lead you to the doors of adventure, but it is up to you to open them and face destiny.'
– Thierry Sabine, Founder of Paris-Dakar
In fact, until 2009, the race was known as The Paris-Dakar Rally, and as the name suggested, it was a race starting from Paris, France, to Dakar in Senegal, West Africa – most critically navigating across the hostile Sahara desert.
The race itself has always faced its challenges, particularly as it had to plot its way through many African countries all with their own political situations. For these reasons, the race was forced to move continent in 2009, and is now exclusively run through South America.
For the 2015 race, competitors will be faced with an epic journey through Argentina, Bolivia and Chile – almost 5000 miles of parched deserts, scorching heat and mountains, there will be no rest for the competitors as they reach speeds well over 100mph.
Toyota is up to the challenge
Since its inception in 1979, Toyota has been a prominent and hugely successful competitor in the rally. In this first year of amateur participation, only 74 entrants completed the course, of which 13 were a Toyota.
Competing in both divisions of the four-wheeled category – Production, for non-converted commercial vehicles, and Super Production, for converted and racing vehicles – Toyota vehicles are very popular among competitors with Land Cruiser and Hilux chosen for their robustness, ease-of-maintenance and reliability.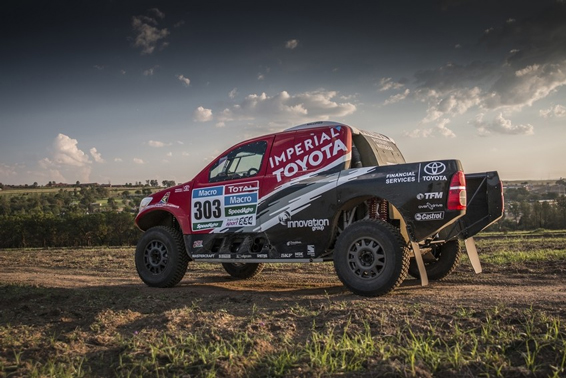 Their highest competitor entry was in the 13th running of the event in 1991, where of the 129 vehicles entered, 34 were a Toyota. Even this was eclipsed in 2002 when nearly one in every two vehicles crossing the finishing line was a Toyota, a testament to their legendary reliability.
In fact, Toyota can celebrate eight consecutive victories in the production division since 2005 alone, proving that the many hours of testing and development Toyota's production cars endure before sale enables them to conquer the most severe rally in the world.
On the January 4th, 50 nationalities will come together to compete in the 2015 rally and Toyota will be represented across both divisions. The Hiluxes of South Africa's Toyota Imperial and Belgium's Toyota Overdrive will be looking to finish even higher than their respective 4th and 7th place finishes in last year's overall classification.
Toyota Imperial South Africa Dakar Team: Meet the 2015 Race Toyota Hilux
We wish all the Toyota teams competing the very best of luck and you can stay updated with all the action, as if you were one of the two million people lining the event, by following the teams' progress in the rally here – Dakar Rally 2015.