The all-new Toyota Corolla Cross brings SUV space, practicality and strong, solid design to the world's historic best-selling model range for the first time. It completes both the current Corolla family, alongside the hatchback, Touring Sports and saloon, and Toyota's SUV line-up, making it the widest on the European market.
To stay informed about the latest news and developments regarding the all-new Corolla Cross, click here.
Founded on Toyota's TNGA (Toyota New Global Architecture) philosophy, Corolla Cross benefits from the latest developments of the GA-C platform, bringing benefits in styling, packaging, technology and driving dynamics.
How does it look?
The all-new Toyota Corolla Cross's powerful and robust styling has been tailored to the European market, with specific headlight and rear light cluster designs and a double-trapezoid grille, flared wings and tapered cabin, projecting the look of an urban-tough SUV.
What are the dimensions of the Corolla Cross?
It measures 4,460mm long, 1,825mm wide and 1,620mm high and has a 2,640mm wheelbase. These dimensions position it between the Toyota Toyota C-HR and RAV4, at the heart of the European C-SUV segment, providing the comfort, practicality and versatility that are priorities for active families with young children.
What will the Corolla Cross be like on the inside?
The cabin provides excellent visibility for all occupants, with ample front and rear head and leg room. The large rear door apertures make for easy access and a panoramic sunroof increases the interior light and sense of spaciousness. The load space has a low sill and wide door opening, convenient for loading large items such as buggies and bicycles.
What is the Corolla Cross powered by?
All-new Corolla Cross is the first model globally to use Toyota's new fifth generation self-charging full hybrid electric system. Available with front-wheel drive (FWD) or intelligent all-wheel drive (AWD-i), the powertrain provides more torque and electric power, greater efficiency and increased driving pleasure.
The transaxle has been re-engineered and new lubrication and oil distribution systems have been introduced, using low-viscosity oil. These measures help reduce electrical and mechanical losses, contributing to improved power and efficiency. Benefiting from the latest developments in lithium-ion battery technology, the new high-voltage battery pack is more powerful and 40 per cent lighter than before. Engine and electric motor output have been improved, resulting in an increase in total system output of more than eight per cent.
The FWD 2.0-litre hybrid powertrain generates 195bhp/146kW, enabling 0-62mph acceleration in 8.1 seconds.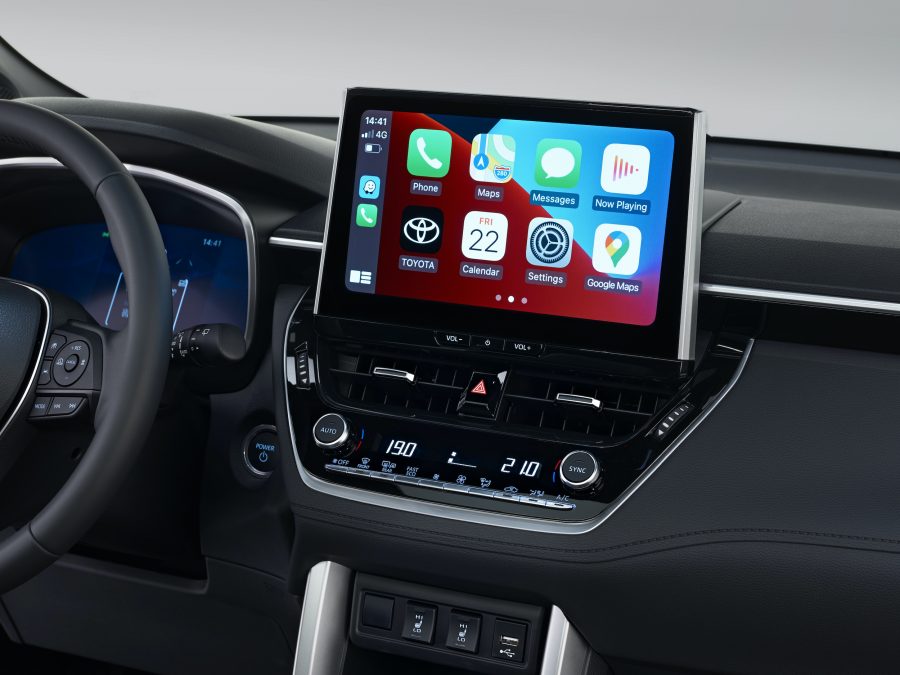 The AWD-i version uses an additional 30.6kW electric motor on the rear axle which engages automatically when required to provide greater traction and driving confidence in low-grip conditions. The benchmark acceleration time is the same as for the FWD model.
What will it be like to drive?
Drivability has also been improved, with more linear, predictable and controllable performance under acceleration. By recalibrating the relationship between the driver's accelerator pedal inputs and the powertrain response, vehicle speed more closely matches engine revs to provide a more intuitive and natural driving experience.
What technology will the all-new Corolla Cross feature?
Corolla Cross features the latest multimedia technology, with a Europe-specific instrument panel layout with a new configuration of a 12.3-inch driver's digital cockpit and a 10.5-inch central display.
The digital cockpit uses all-new hardware and software. The largest in its segment, it maximises space for content, flexibility and customisation to personalise the presentation of data such as fuel consumption hybrid system operation and navigation.
What will the multimedia system be like?
The multimedia system uses a faster processor and a 10.5-inch touchscreen. It delivers extra functionality through the Toyota Smart Connect package and enables smartphone integration via Apple CarPlay and Android Auto. Cloud navigation, up-to-the-moment road event information, voice commands using an on-board assistant and over-the-air software updates are also provided. Using the MyT app, owners can access a suite of connected services, including driving analytics, car location and remote programming of the climate control and door locking.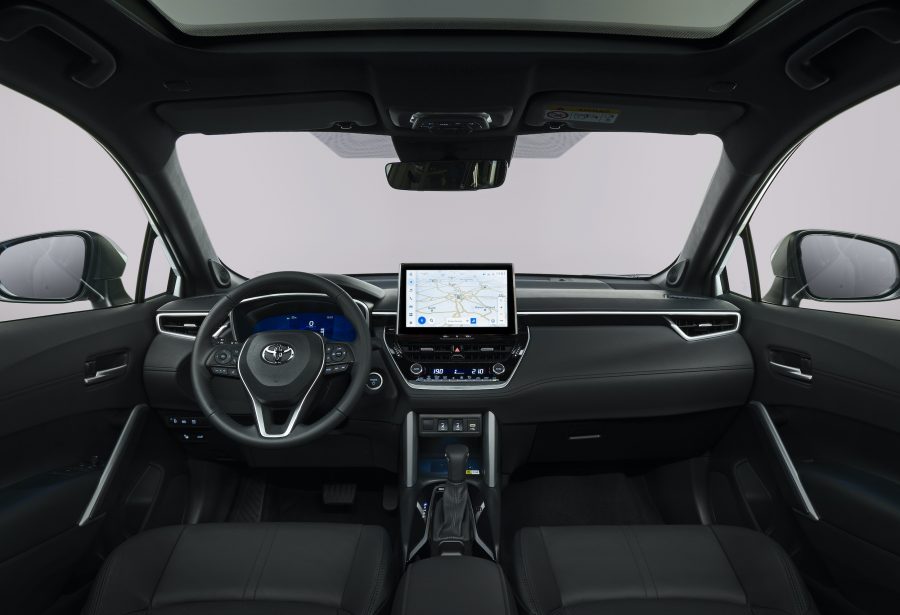 Read more: History of the Toyota Corolla
What safety features will the all-new Corolla Cross have?
Corolla Cross is equipped with T-Mate, the latest generation of Toyota Safety Sense and driving assistance systems, designed to make driving safer and providing protection for all occupants and other road users.
For the first time, the Pre-Collision System includes acceleration suppression at low speed and Intersection Cut-in Traffic Assist; its oncoming traffic detection and Intersection Turn Assist have also been improved.
Other new Toyota Safety Sense functions include an Emergency Driving Stop System and over-the-air software updates and fixes to optimise system performance and add new ones. Improvements have also been made to the Full-range Adaptive Cruise Control, Lane Trace Assist and Road Sign Assist systems.
T-Mate provides driving assistance with a Blind Spot Monitor with Safe Exit Assist, an Adaptive High-beam System for the headlights and Teammate Advance Park for easier, automated parking manoeuvres. A Panoramic View Monitor, Rear Cross Traffic Alert with automatic braking and Intelligent Clearance Sonars are also available.
The GA-C platform enables a highly rigid body to be constructed, providing strong protection in the event of an impact. In the cabin, the passive safety features include a new centre airbag between the front seats, providing extra protection in a side-on collision.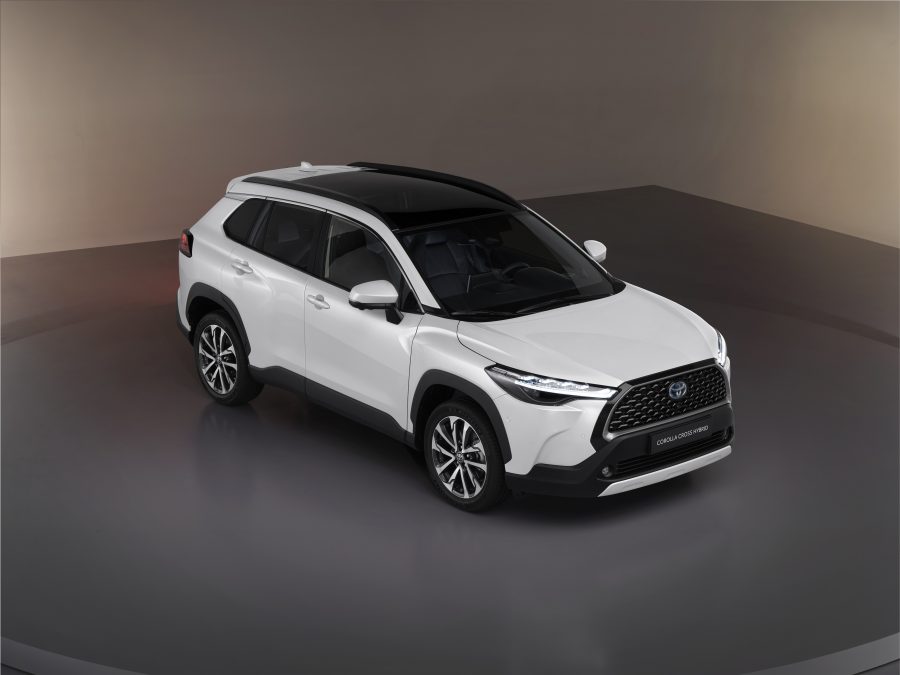 When can I get the all-new Corolla Cross?
Deliveries to European customers will commence in autumn 2022, with launch dates according to individual markets.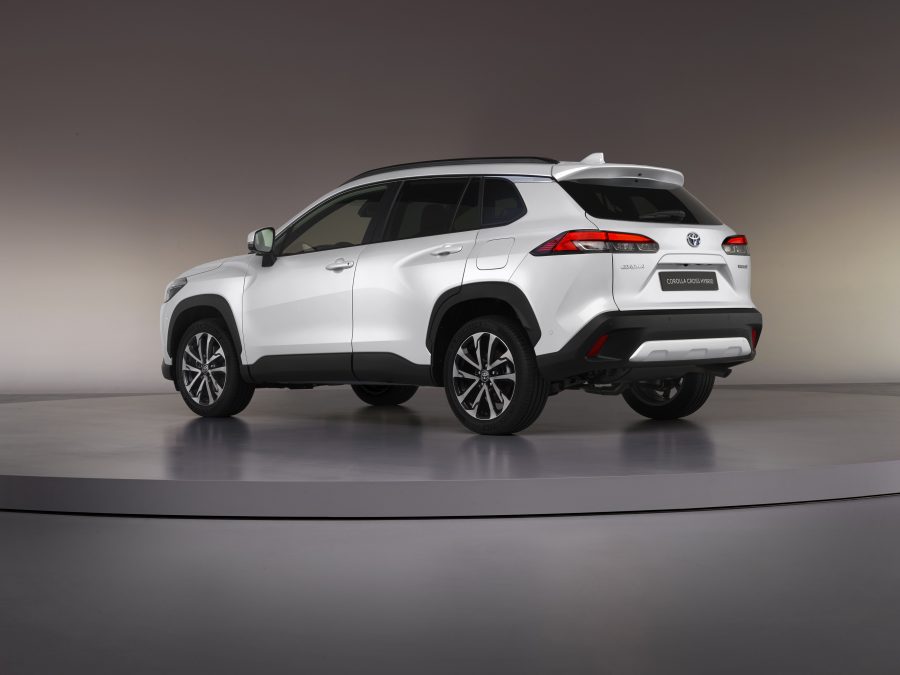 Toyota Corolla Cross: technical specifications
All data are tentative/provisional subject to homologation.
ENGINE
FWD
AWD
Type
4-cylinder, in-line
Valve mechanism
DOHC 16-valve with VVT-iE (intake) and VVT-i (exhaust)
Displacement (cc)
1,987
Compression ratio
13.0:1
14.0:1
Max. output (bhp/DIN hp/kW @ rpm)
169/171/126 @ 6,600
150/152/112 @ 6,000
Max. torque (Nm @ rpm)
202 @ 4,400-4,900
188-190 @ 4,400-5,200
HYBRID SYSTEM
FWD
AWD
Hybrid battery
Lithium-ion
Number of cells
180
Nominal voltage
3.7
Battery capacity (Ah)
4.08
Front motor
Rated voltage
TBC
TBC
Max. output (bhp/DIN hp/kW)
112/113/83
112/113/83
Max. Torque (Nm)
206
206
Rear motor
Max. output (bhp/DIN hp/kW)
–
41/41/30
Max. Torque (Nm)
–
84
Total system output (bhp/DIN hp/kW)
194/197/146
TRANSMISSION
Type
eCVT
PERFORMANCE
FWD
AWD
Max. speed (mph)
TBC
TBC
0-62mph acceleration (sec)
8.1
8.1
Drag coefficient (Cd)
TBC
TBC
SUSPENSION
Front suspension
MacPherson strut
Rear suspension
Double wishbone
EXTERIOR DIMENSIONS
Overall length (mm)
4,460
Overall width (mm)
1,825
Overall height (mm)
1,620
Wheelbase (mm)
2,640
Front overhang (mm)
955
Rear overhang (mm)
865