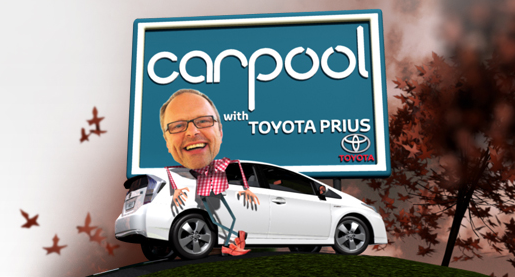 Just when we got used to having it back on TV, it's almost over. That's right, the final episode of Carpool with Toyota Prius airs tonight at 8.30pm on Dave. So who has been saved until last?
One thing's for certain, with the likes of Robert Llewellyn's Red Dwarf co-star Craig Charles, Comedy Rocks' Jason Manford and legendary magic-man Paul Daniels, the final two guests have a tough act to follow.
The good news is that Jim Jefferies and Richard Herring are more than up to the task. As well as hosting his own comedy special on US TV's HBO channel, Jim has regularly featured on UK screens, including hit shows Never Mind the Buzzcocks, Have I Got News For You and 8 out of 10 Cats.
Regular creator and performer of sell-out stand-up shows, Richard is no stranger to comedy double-acts, so he should have no trouble raising laughs during his car ride with Robert. As well as co-writing radio satire On The Hour, which would later become The Day Today on TV, and helping to create Alan Partridge, Richard (along with Stephen Lee) is responsible for bringing the world This Morning With Richard Not Judy, as well as popular comedy podcast As it Occurs to Me.

The final episode of Carpool TV is on tonight at 8.30pm on Dave (Sky 111, Virgin 128, Freeview 19). As always, head over to Dave Ja Vu (Sky 158, Virgin 129, Freeview 25) an hour later if your miss it.
Looking for more Carpool video goodness? Click here.