Britain's Top Tradesperson has been revealed! Darren Lawton, an electrician from Newcastle, overcame tough competition to become Britain's Top Tradesperson 2015 run by Screwfix.
Darren, who trades under the name North East Electrics, was shortlisted from over 2,500 applications after winning his regional final. He went head-to-head with 10 other regional finalists at Wembley Stadium on Thursday 19 November.
Darren set up his company three years ago after deciding he wanted to provide a better service for customers. Darren's qualifications, professional approach and customer focus really impressed the judges at the grand final last month. Darren is also the first electrician to win Britain's Top Tradesperson in the six-year history of the competition.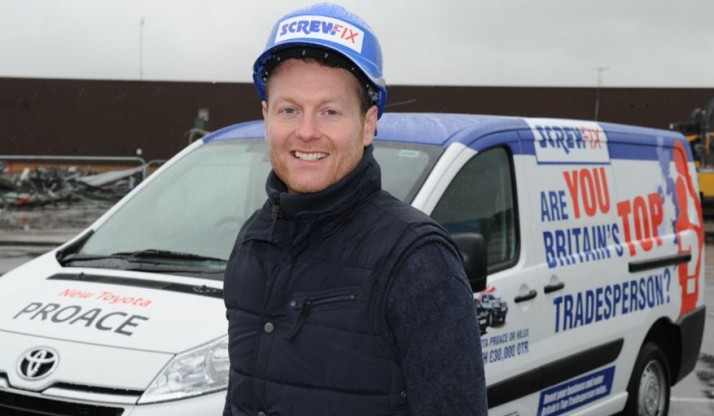 As the winner, Darren takes home the title of 'Britain's Top Tradesperson' and receives a brand new Toyota Hilux Invincible X.
"I couldn't believe it when I got the call saying I had won" said Darren. "I thought the rest of the candidates on the day were brilliant."
"During my interview with the judges, I had to prove I really know my stuff and was asked about qualifications, quality of work and the way I run my business.
"I also wanted to get across how important my customers are to me and the lengths my colleague and I go to in order to ensure they are happy. I can't wait to collect my new Hilux– I've already picked out the colour!"
"I set up the business after starting a family. My wife and I began with leafleting the local area and we even advertised on beer mats in the local pub.
"Once business started coming in, I knew that if I was to keep it going successfully I'd need to provide excellent customer service. I've taken on a lad who also had a young family to support, and together we've made a great success of things.
"I'm really proud that I have been named Britain's Top Tradesperson and my kids think it's great that daddy has been in the newspaper!"
Britain's Top Tradesman seeks to locate and distinguish the best in the trade, from carpenters to handymen, electricians, bricklayers and plumbers that help keep households and companies running across Britain.
The judges comprised of: Nadine Linge (Daily Star), Allan McIntosh (CIPHE), Arthur McCardle (FMB), Alan Wells (NICEIC), Paul Fricker (Toyota) and from Screwfix, John Mewett, Graham Bell and Graham Smith.
The panel looked for the tradesman who impressed them in areas such as customer service, dedication to their work, qualifications, exceptional skills and professionalism. They felt Darren exceeded in these areas gaining him the title of Britain's Top Tradesperson.
Screwfix Marketing Director, John Mewett, comments: "More than 2500 people entered the competition this year, and we were overwhelmed by the high standard of work completed by the nation's tradespeople."
"Darren showed real graft and determination when he first set up his business and really impressed us with the clever ways in which he spread the word about his own company.
"We felt that his entrepreneurial spirit really stood out and the fact that he has never had a customer complaint is a reflection on the quality of his workmanship too. We have a hugely deserving winner in Darren who represents all that is great about the UK's tradespeople. We look forward to hearing about his future successes."