Steve Mahan has just joined Google's self-driving car development project, but he's the most demanding test driver yet. That's because Steve is clinically blind.
But on a sunny day in California, Steve got behind the wheel of a specially adapted Toyota Prius for a journey that only a few years ago, many would have described as impossible.
As footage of the event shows, the Toyota Prius was able to get Steve to the shops, and even made a detour for food – expertly negotiating a Taco Bell drive-thru.
This isn't the first time that Google's self driving car fleet have hit the road. In fact, using a fleet of Toyota Prius the firm says it has covered over 200,000 miles of incident free test-driving.
The project, which is overseen by Google Streetview co-creator Sebastian Thrun, uses detailed mapping technology along with artificial intelligence linked to cameras on the car to navigate routes and hazards.
Following a carefully predetermined route, the car interprets road signs and traffic signals and can track and avoid other cars.
While you are unlikely to see such cars offered for sale any time soon, it does show the incredible pace with which such technologies are being developed.
Read more Toyota helps blind doctor achieve his driving dream
It's worth pointing out that Google's self-driving car fleet consists of six Toyota Prius and a Lexus RX 450h.
Key to the challenge of bringing such cars to the road, are the legal objections to having hundreds of self determining cars sharing road space.
Some American states, like Nevada, have agreed legislation to allow the testing of driverless vehicles on public roads, there are still legal challenges to overcome.
At the core of debate is answering the question "who's at fault in the event of a collision?"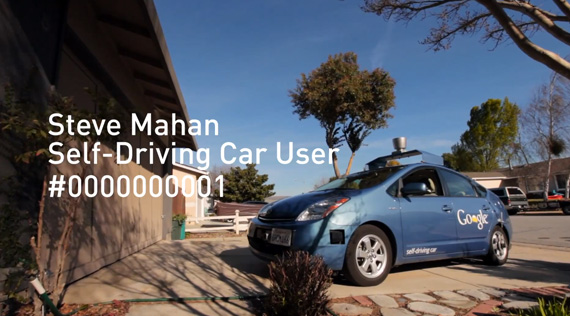 That aside, the video offers an inspiring and encouraging insight into what autonomous technology may one day deliver.
And it's not the only one… ideas like this are promising to revolutionise the way we own and use our cars.
To find out what other future ideas Toyota is looking into, check out the Toyota Magazine as it peers into the future of commuting.
Details in this article were correct at the time of publication.