It's here! Find out how we managed to fit 4,747 bananas into a Toyota Aygo, and what we did with them afterwards – in this video.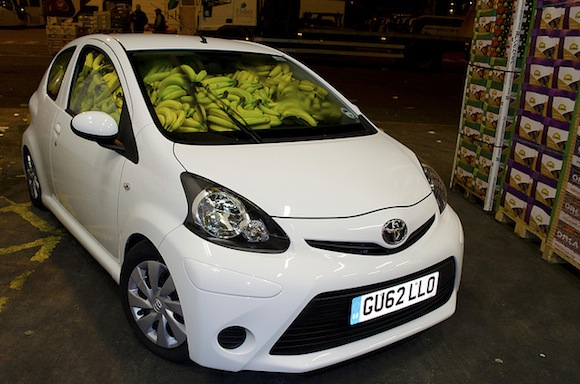 As those of you who follow us will know, we've just spent an evening carrying out our oddest project yet – filling an Aygo with bananas…
Call us daft, but after we were challenged on Twitter to do just that by Aygo fan David McNally, we felt we couldn't disappoint.
You can read more about the #AygoBananas project in this post.
Filling a car with bananas
The evening started when we arrived at New Covent Garden Market in London at 11pm last Tuesday, ready for a busy, busy night.
After meeting with suppliers Premier Fruits, our team of five ordered 20 boxes of mixed bananas and got down to the business of filling the car and counting the bananas.
Four hours, some regenerative hot drinks and another order of 26 boxes later, and the bananas were approaching the roof of the car. One final box was ordered, and the car was fit to burst (and sitting very low on its suspension).
So how many bananas did we manage to fit into the car? A grand total of 4,747!
But that was only half the story.
Before we could leave, we had to pay for our bananas (£587.50), re-box them and prepare them for day two of project #Aygobananas.

Our bananas go to charity
After some sleep, we were back on the road and heading to Deptford and our first donation of 17 boxes of bananas – food distribution charity FareShare (you can find them on Twitter @FareShareUK).
FareShare works across the UK to relieve food poverty and cut food waste. It has been operating since 2004 and has 17 locations around the UK. Established in 1994 as a project within the homelessness charity Crisis, FareShare aims to help vulnerable groups, whether they are homeless, elderly, children, or other people in food poverty.
Find our more about FareShare on their website.
We donated our remaining bananas to Port Lympne wild animal park in Kent, where they will feed several animal groups, including monkeys, gorillas, and the endangered Belted Ruffed Lemurs in our picture above.
Read more about Port Lympne on the Aspinall Foundation website or find them on Twitter.
Take a look at our complete image set on Flickr.