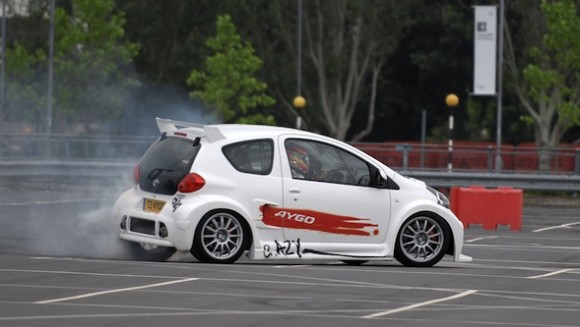 Toyota GB's spectacular Aygo Crazy concept was among over 100 classic cars that took part in the inaugural Shere Hill Climb event in Surrey this month.
Thanks to its 'crazy' adoption of a mid-mounted and turbocharged 1.8-litre engine within a lightweight bodyshell, the one-off Aygo Crazy concept is perfectly suited to a rapid ascent. Rear-wheel drive gives the car superb purchase as the weight shifts rearward under acceleration, while its short wheelbase makes it highly maneuverable around the chicanes and tight, single-lane leading to the top of the North Downs.
As a charity demonstration in aid of Shere Infant School, this motorsport event was not timed. Outright speed therefore had to take second place to the combined spectacle of stunning visuals, spine-tingling noise and the impressive physicality of rubber-destroying launches. So in that respect there was still plenty of competition among entrants eager to receive the loudest cheers.
Despite its relatively humble origins compared to various production supercars in attendance, Aygo Crazy remained a firm favourite among the 2,000-strong crowd. However, that was not necessarily true for our photographer charged with capturing the action from the passenger seat, especially when driver Richard Seymour deployed the full 200bhp and savage bumps in the road saw them levitate from their bucket seats.
Every time Aygo Crazy returned to the staging area we were besieged with questions: Is Toyota making the car? How can I get one? Is this the same car I saw at the Goodwood Festival of Speed back in 2008?
Unfortunately, we had to let the showgoers down gently. Aygo Crazy has always been and will always remain a one-off. Yet with ultimate rarity and its radical, mid-engine drivetrain, our concept was undoubtedly the rarest vehicle at the event.
But the real winners of the inaugural Shere Hill Climb were the children of Shere Infant School. They were delighted to receive a cheque for £10,000 from the organisers, which will be spent on new IT equipment.
Watch the video below.
[youvid embded='t' vid='eQjERtqv7TE']