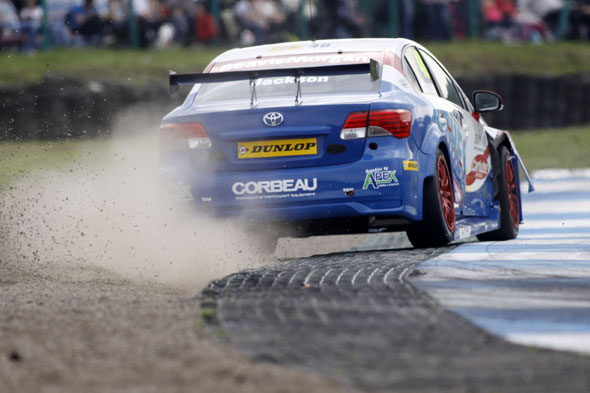 Toyota Avensis racers Frank Wrathall and Adam Morgan will reach significant milestones in their Dunlop MSA British Touring Car Championship careers on Sunday at Rockingham: the first of the day's races will be Dynojet Racing driver Wrathall's 75th BTCC race start and Ciceley Racing man Morgan's 50th.
Frank and Adam will join Toyota BTCC independents Dave Newsham and Ollie Jackson – Speedworks Motorsport drivers both – on the grid at the Northamptonshire speedway, and all four of the Avensis avengers are hoping for good results.
Lancashire 24-year-old Morgan is the best placed of the quartet in championship terms having made the top 10 on 17 occasions in this season's 21 races; his consistency has earned him a top-seven overall championship placing as well as third position in the Independents Trophy for drivers. Says Adam: "Hopefully I can again qualify towards the front – the top eight would be good – and then keep it in top 10 in races one and two, and then we may be able to profit from the reverse grid draw for race three. Consistency is our aim."
He says he can't believe that he is about to notch up his BTCC half-century: "It certainly doesn't feel like 50 races already. I've learned a lot, that's for sure. My first year was a very steep learning curve about how close-contact BTCC racing can be, and how competitive it is. It's all about keeping a cool head; consistency is key to this championship. Hopefully my career still has a long way to go…"
Wrathall is hoping not only for a memorable 75th BTCC outing but also for a return to the sort of form which took him on to the podium at Rockingham in 2011, when Frank's Toyota qualified third and went on to collect third and second places in the opening races. Last year a podium result eluded him, but Wrathall scored three solid points finishes. "Rockingham is definitely one of my favourite circuits and it's one at which over the years I have enjoyed the most success," said Frank, 26. "I always look forward to going to Rockingham, and I just hope that we can get the Toyota in a position where we can challenge in the top 10. We've gone through a few set-up ideas which we are planning to test: hopefully they will put us in good stead."
Speedworks man Jackson heads for Rockingham having achieved a hat-trick of points finishes at Knockhill. His team-mate Newsham made the best of things in Scotland too, fighting back from a mechanical failure in qualifying to net two top-11 results on race day. He's hoping for a Rockingham weekend free from technical issues: "Hopefully my car will behave itself – if it does, then we have the pace to be inside the top 10. Three solid races is what we need, and a podium finish would really make a difference to the team. I like Rockingham: in 2010 I secured pole position and both race wins there in the Clio Cup. Although there will be no repeat of those results this weekend, I do believe my Speedworks Toyota should go well."
The Rockingham action gets underway on Saturday with two free practice sessions ahead of official qualifying at 1540. The first of Sunday's three races, all of which will be screened live on ITV4, is at 1125.