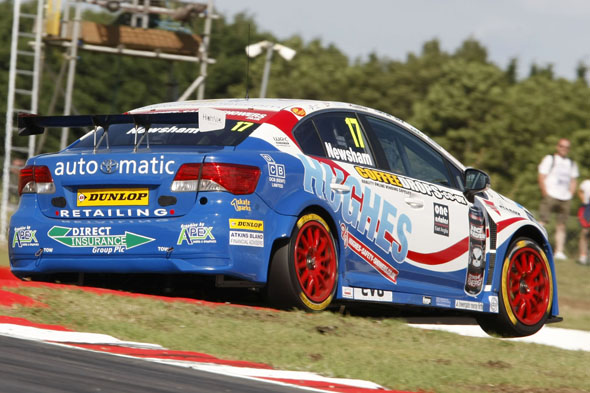 The unique demands of the Knockhill circuit will be concentrating the minds of Toyota's four BTCC independents this weekend (24/25 August) as they bid to be the first to deliver an Avensis victory in this season's Dunlop MSA British Touring Car Championship.
A race win in Scotland would certainly be great news for Inverness-based Dave Newsham, who triumphed last year at the circuit on which he cut his racing teeth. "I live about 145 miles from Knockhill, so compared with the other circuits on the calendar it's right on my doorstep," said the Speedworks Motorsport Avensis racer. "It's also where I started racing, in the Scottish Legends series, so I know it well and of course I'll have a lot of home support – people travelling from Inverness who wouldn't normally be able to see me race."
Newsham drew pole position for the third Knockhill race in 2012 and led from lights to flag at the wheel of his ES Racing Vectra. He's hopeful that he can repeat the feat for Speedworks and Toyota: "I've never driven the Avensis at Knockhill but I have such a nice feeling with the car now that it doesn't daunt me at all. I think the Toyota should be good and, if we can get a good qualifying result, then hopefully we can translate the speed that we've had lately into some decent results."
Newsham will be accompanied at Knockhill by his regular Speedworks running mate Ollie Jackson, who will be keen to build on his successes in early August's Snetterton races, in which he claimed his highest points score of the season so far.
Adam Morgan and the Ciceley Racing team head for Knockhill hoping to deliver another set of top-12 BTCC results. Adam's Avensis has finished outside the leading dozen only once so far this season, and the Lancashire 25-year-old is banking on some handling revisions and some valuable startline practice to help him achieve further success in Scotland.
"We had a good test session last week at Mallory Park," says Morgan, "and we were able to give the Toyota a good shakedown in preparation for Knockhill, and to try a couple of things which may help us there. I tried some practice starts as well, because my getaways at Snetterton were not brilliant. It was good to get some more practice at it to try to get more consistent; I now seem to be getting it off the line correctly more often than not, which is encouraging."
Morgan is the best-placed Toyota driver in the BTCC – he is third in the Independents Trophy driver standings and seventh in the drivers championship overall, having scored 17 times from 18 races and with a best result of third, at Oulton Park.
Frank Wrathall and the Dynojet Racing team are adopting a 'back to basics' approach for their Scottish foray in the hope of regaining the qualifying form they showed in the first half of the season, the highlight of which was a front-row start at Donington Park.
"We have been doing a lot of preparation work," says Frank, "and we are going back to basics with the set up, starting from scratch really, and hopefully we can get going back in the right direction. Unfortunately we didn't learn too much about Knockhill last year because of mechanical problems. It's a unique circuit: there's no other track with such undulations and where you hit the kerbs as hard.
"Hopefully we will have got it right for Knockhill, and the aim is to try to qualify near the front of the grid and then have three solid, consistent races inside the top 10."
Sunday's Knockhill race action gets underway live on ITV4 from 1145 am.