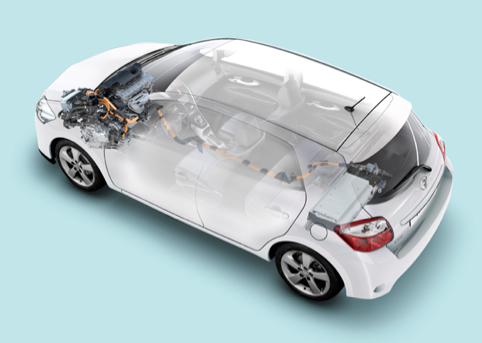 Our hilly ascent was almost as steep as our learning curve as we got to grips with Auris Hybrid on Barcelona's mountain roads on Tuesday, while yesterday's cross-city drive was the ultimate fuel economy test, but it all seems like a long time ago now – we're back from the Auris Hybrid press launch and have been hard at work answering all of your burning questions.
Thank you to everyone who got in touch with a question. We received so many that we've had to split the answers into two posts, so be sure to stay tuned for part two.
Update 21/5/10: Part two is now available and can be found here.
What price will Auris Hybrid be?
Auris Hybrid starts at £18,950 OTR. There are two grades, each of which is priced according to specification level:
T4 (15in wheels): £18,950
T4 (17in wheels): £19,200
T Spirit (17in wheels): £20,700
What are the key features of the grades?
The standard T4 includes:
– Climate control air conditioning
– Six-speaker audio with CD, radio, MP3 file player
– USB and Aux-in connection
– Front and rear electric windows
– Electric, heated door mirrors
– Front fog lights
– LED running lights
– Colour-matched door handles and mirrors
– Push-button start
– Seven airbags, including driver's knee airbag
– Vehicle Stability Control (VSC) and Traction Control (TRC)
– Hill-start Assist Control (HAC)
The T Spirit includes the following features in addition:
– Dark grey Alcantara and leather seat trim
– Cruise control
– Bluetooth
– Dusk-sensing headlamps
– Rain-sensing wipers
– Smart Entry and Start
– Electrochromatic rear view mirror
– Rear view camera in mirror
– Unique rear spoiler
What options will be available for Auris Hybrid?
A Navigation Pack consisting of satellite navigation, rear camera and rear parking sensors is available for £1,200.
A Protection Pack consisting of rear parking sensors, scuff plates and stainless steel rear bumper protection plate is available for £445.
For T4, Bluetooth with steering wheel controls will be available at the price of £285.
The following colours are available:
Pure White
Ixion Blue
Tyrol Silver
Eclipse Black
Dark Blue Metallic
Pearl White (exclusive to hybrid)
When will Auris Hybrid be available to buy in the UK?
Auris Hybrid will be available from July 1 2010 but is available to order now at your local Toyota Centre. Test drives will be available from early July. For more information, please contact your nearest Toyota Centre.
Are there any offers available on Auris Hybrid?
As of 1 June, Toyota is offering a 5-year/100,000 mile warranty on all new passenger cars, including Auris Hybrid. For all the latest special offers across the Toyota range, please click here.
Is there an automatic version?
Each grade of Auris Hybrid has shift-by-wire E-CVT transmission (electronic continuously variable transmission). You drive it just like an automatic; there's no gearbox or clutch. There is no manual version.
Will there be a plug-in version of Auris Hybrid, and if so, when?
There are no current plans to offer an Auris Plug-in Hybrid Vehicle. A limited number of Plug-in Prius will be leased on trial in the UK from next month. Toyota plans to introduce Plug-in Prius with mass production from 2012. For more information, please click here.
Will there be a diesel version of Auris Hybrid?
Although Toyota does offer diesel hybrid commercial vehicles in Japan, there are currently no plans to introduce a diesel version of Auris Hybrid as it remains expensive to adapt the technology to passenger cars.
In addition, petrol hybrid technology offers much lower NOx and particulate matter emissions (which cause air pollution), while its smoothness makes it better suited to passenger cars than diesel hybrid technology.
How does Auris Hybrid compare to Honda Insight?
Auris Hybrid is what's known as a 'full' (series-parallel) hybrid. It can run on either its 1.8l petrol engine or its 60kw electric motor alone, or use a combination of both power sources. The Honda Insight, meanwhile, is a 'mild' (parallel) hybrid. It too has an electric motor in addition to its engine but you cannot drive using the 10kw electric motor alone. The Insight's mpg and CO2 emissions figures – 64.2mpg and 101g/km respectively – reflect this. With 74.3mpg and 89g/km, Auris Hybrid delivers better performance, increased fuel economy and the option to drive completely emission-free.
74.3mpg is impressive but how does Toyota obtain that figure, and will it be achievable for me in everyday driving?
The mpg figures stated by manufacturers are the only official figures that can be published. All manufacturers are subjected to the same strict tests in Europe, and can only publish the figures from these tests.
We can testify to Auris Hybrid's outstanding fuel economy. For our road test at the press launch in Barcelona, we drove a T Spirit with 17in wheels, for which the official mpg figure is 70.6mpg. We drove in ECO mode on motorways, winding mountain roads and congested city streets, applied no special technique or driving style (in fact, we used the climate control air conditioning system for most of the drive) and still found we achieved 68.9mpg effortlessly. So yes, 74.3mpg should definitely be achievable with the 15in wheel T4 model!
Can you charge the battery using a normal electricity supply?
Hybrid Synergy Drive technology means that the nickel metal hydride (hybrid) battery is charged through normal driving. You just get in and drive – no need to worry about plugging it in. To learn more about how Hybrid Synergy Drive works, click here.
Will Auris Hybrid feature xenon headlights with a cornering function?
No, however it does feature LED running lights and LED rear lights as standard.
Is the passenger seat height adjustable?
Seat height adjustment is only available for the driver's seat.
Can Auris Hybrid tow?
The hybrid system is not designed to tow. As such, Toyota does not offer a towbar accessory for Auris Hybrid or Prius customers.