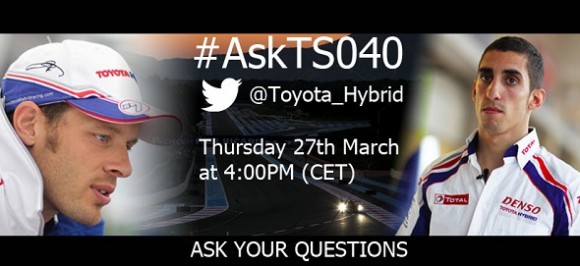 The wait is almost over, as tomorrow (Thursday) Toyota Racing takes the wraps of its new hybrid endurance racing car; the TS040.
The TS040 Hybrid prototype has been designed in line with new sporting regulations intended to keep the FIA World Endurance Championship (WEC) and Le Mans at the forefront of the development of road-relevant racing technology. Technologically, the car represents a quantum leap forward over the outgoing TS030.
Tomorrow, the car will be handed over to drivers Alex Wurz, Stéphane Sarrazin, Kazuki Nakajima, Anthony Davidson, Nicolas Lapierre and Sébastien Buemi.
To mark the occasion, Toyota Racing is hosting a q+a session on Twitter from 3pm to 5pm tomorrow (March 27), during which Alex Wurz and Sébastien Buemi will be answering any questions you may have about the car, the upcoming World Endurance Championship, and of course, Le Mans 24 hour, from the famous Paul Ricard raceway in France. Use #AskTS040 to join in.
Find out more about the TS040 here.