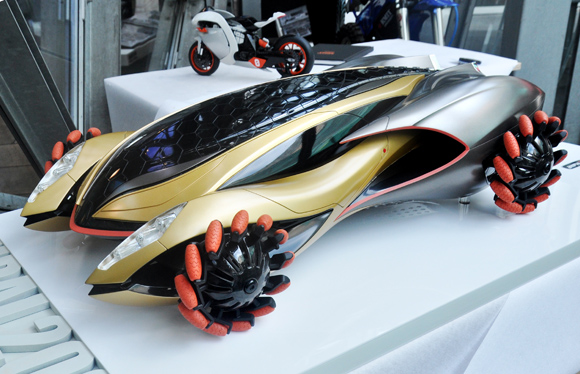 A revolutionary concept car designed to ease traffic congestion by operating on land and water has won a prestigious design award sponsored by Toyota.
The Amphi-X concept is the work of Australian university graduate Beichan Nan, and offers a vision for cars built in the year 2030.
The amphibious machine features a hull shaped cockpit and four "claw" like wheels. As well as offering on and off-road capability, the Amphi-X can become a water-borne vessel with the wheels acting as impellers. Faster speeds are achieved by using its rear water jet.
Nan, 24, said the inspiration for the Amphi-X was to provide a solution that would help prevent traffic choking our cities.
"Each wheel has its own motor, which can propel the vehicle on land or water," Mr Nan said.
"The wheels also feature a number of rubber 'rollers' which provide two key functions – firstly, they shrink in size in the water which creates less drag, and they also enable the wheel to move in more directions than simply longitudinally.
"This, theoretically, creates a drifting effect to the handling on land."
Toyota Australia's design chief Paul Beranger presented Mr Nan with the Toyota People's Choice Award at the VACC's Target 2030 Automotive Design Awards.
Mr Beranger, who is one of Australia's most talented and experienced automotive designers, said Target 2030 was important in stimulating interest for working in the industry.