On the WRC calendar for the first time since 2010, Rally Turkey provided a considerable test for all the teams and crews, with entirely new stages over rough and rocky gravel roads that were extremely demanding for the cars and tyres.
In a rally of attrition, where only five World Rally Cars completed the event without having to retire from at least one of the three legs, the approach of the Toyota team and its drivers to focus on reliability and avoiding mistakes paid dividends. The hard-fought one-two finish in Turkey elevated the team to first place in the manufacturers' championship.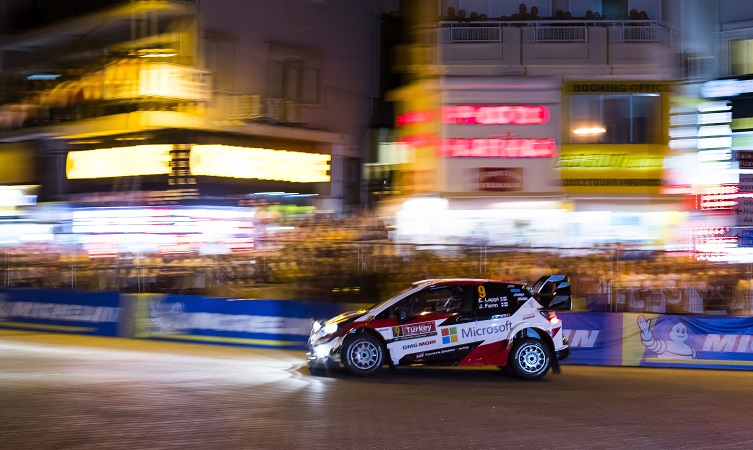 2018 Rally Turkey: day one
Review: Shakedown took place on a 4.7km course close to the Asparan service park. All three Yaris WRC drivers completed three runs over the stage, with Jari-Matti Latvala finishing third fastest, Ott Tänak fourth and Esapekka Lappi sixth.
Following a ceremonial start at Marmaris Marina, the crews took on a 2.0km street stage. Here, Tänak was the fastest Toyota driver in third, with Lappi seventh and Latvala ninth. All three were within four seconds of the rally lead.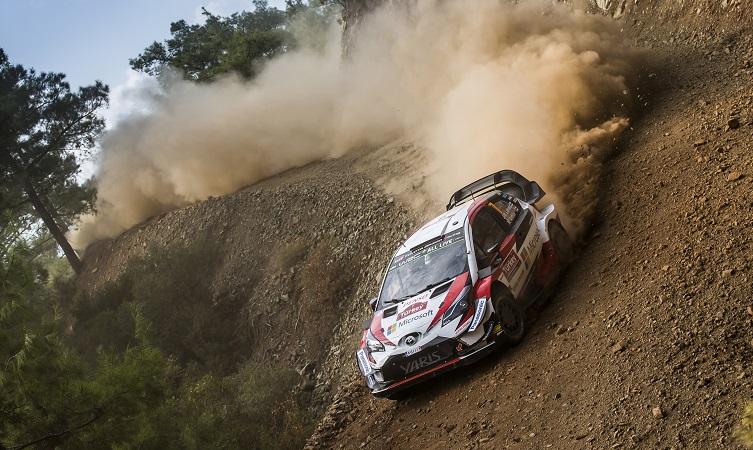 Tom Fowler (chief engineer): "As we have not been here before, it was important to use shakedown to check the setup that we established in our pre-event test in Portugal. We found the stages are rougher than previously anticipated, so we had to make adjustments to get the cars a little higher.
"This rally is going to be very tough for everybody and our focus is on reliability and endurance. It is one of the hotter rallies and we have worked hard on our cooling system. Shakedown increased our confidence with the temperatures running right where we needed them to be. With the street stage completed without issues, everything is ready for tomorrow."
2018 Rally Turkey: day two
Review: Friday consisted of two loops of three mountainous stages to the north. Latvala completed the morning in sixth position and then set a strong time on the second pass of the 38.1-kilometre Çetibeli stage to move up to fourth. He completed the day 16.3 seconds from the lead.
Following back-to-back wins in Finland and Germany, Tänak experienced a tough morning but made up places during the afternoon and set the fastest time on the last test, maintaining his record of claiming a stage win on every rally since joining the team. It moved him up to fifth overall, with Lappi only a few seconds behind in seventh after coming second on both of the last two stages.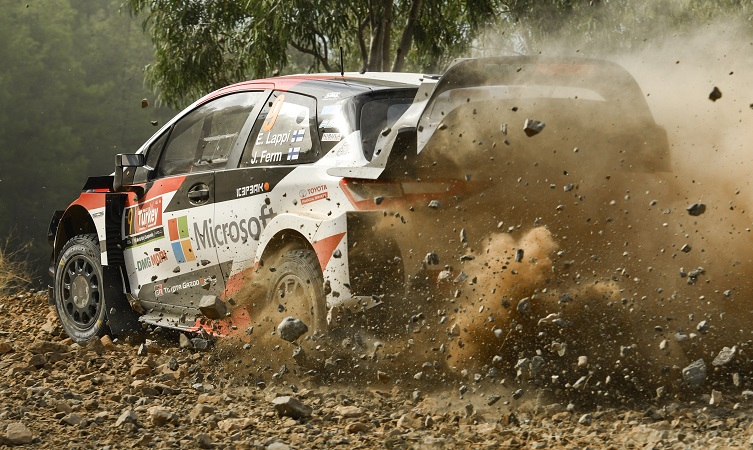 Jari-Matti Latvala (driver car 7): "This morning started with a good time in the first stage even though there was a lot of dust in the air from the cars in front. I lost some time in the next stages but this afternoon was much better. The stages were very rough but I tried to be clever and focus on being consistent and not making mistakes.
We ended the day in fourth and only 16 seconds from the lead. Tomorrow the stages are in a slightly better condition than today and I feel good about our chances."
2018 Rally Turkey: day three
Review: Tänak displayed strong pace over this morning's three stages to move up to second place by midday service, just ahead of Latvala. Further issues struck rivals in the first stage of the afternoon, and Tänak posted the fastest time to take the rally lead with Latvala gaining second place. The pair safely completed the day, with Tänak leading Latvala by 13.1 seconds, with more than a minute in hand over the driver in third.
Lappi was in sixth overall when he had a spin on the final stage of the morning loop, which left his car beached on the edge of the road. This forced him to retire from the day, but the team hoped to repair the car so that he could restart day four under Rally2 rules.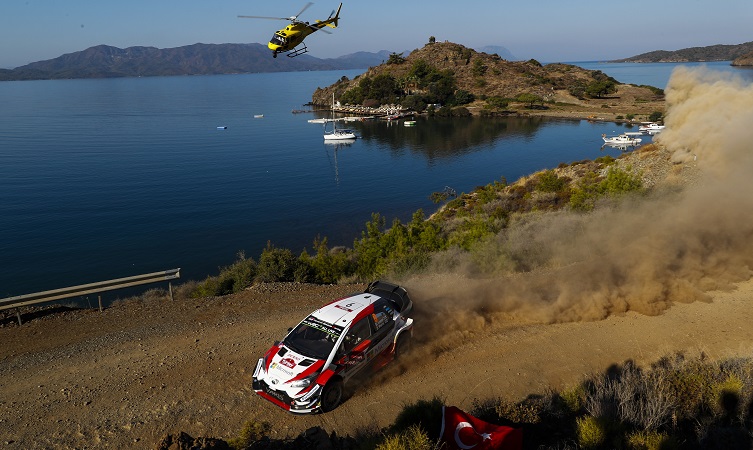 Tommi Mäkinen (team principal): "This was the sort of day we haven't seen for a very long time in this championship. So many things happened and there were a lot of difficulties for all of the drivers and cars, with hot and tough conditions that were very aggressive for the tyre wear.
"This rally has been about survival and we are now in a very good position. Our drivers have managed it extremely well, aside for a very small mistake from Esapekka – he had a very positive pace-note and that was the result. On brand new stages, things like this can happen. Now we have our fingers crossed for tomorrow."
2018 Rally Turkey: day four
Review: Lappi was unable to take part in Sunday's stages after his car was too heavily damaged when he went off the road on Saturday morning. However, this did not prevent Toyota claiming a maximum 43 points haul towards the manufacturers' championship, which it now leads by five points with three rounds remaining.
Tänak, who also took three bonus points for third place on the rally-ending Power Stage, has climbed to second in the drivers' standings, just 13 away from the lead. Latvala, fourth on the Power Stage, moves up to fifth behind Lappi.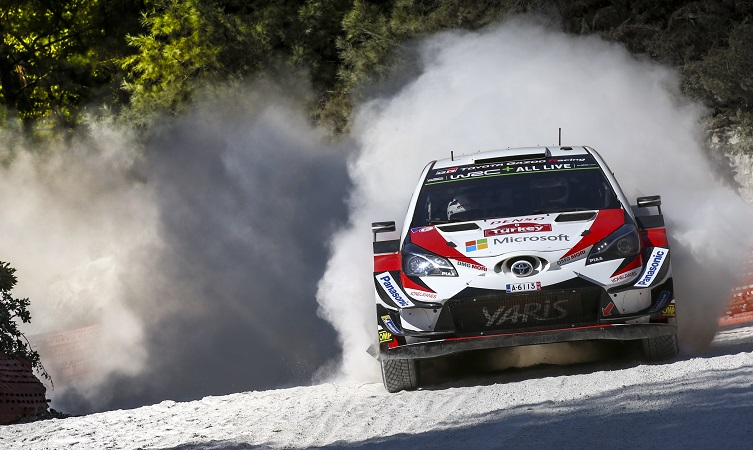 Ott Tänak (driver car 8): "This rally was so difficult. From the beginning, we knew that it wouldn't be the fastest driver that would win this rally but the smartest. We were the most consistent and we managed to do the whole rally without any issues or having to stop on any of the stages. Obviously it has been a great team effort and we have been able to build a very strong car. The championship is now wide open, so let's keep pushing."
2018 Rally Turkey: final result
| | | | |
| --- | --- | --- | --- |
| POSITION | NAME | CAR | TIME |
| 1 | Ott Tänak / Martin Järveoja | Toyota Yaris WRC | 3h 59m 24.5 |
| 2 | Jari-Matti Latvala / Miikka Anttila | Toyota Yaris WRC | + 22.3s |
| 3 | Hayden Paddon / Sebastian Marshall | Hyundai i20 Coupe WRC | + 1m 46.3s |
| 4 | Teemu Suninen / Mikko Markkula | Ford Fiesta WRC | + 4m 10.9s |
| 5 | Andreas Mikkelson / Anders Jaeger | Hyundai i20 Coupe WRC | + 7m 11.7s |
| 6 | Henning Solberg / Ilka Minor | Skoda Fabia R5 | + 13m 40.6s |
| 7 | Jan Kopecky / Pavel Dresler | Skoda Fabia R5 | + 18m 25.2s |
| 8 | Simone Tempestini / Sergiu Itu | Citroen C3 R5 | + 19m 37.1s |
| 9 | Chris Ingram / Ross Whittock | Skoda Fabia R5 | + 20m 21.3s |
| 10 | Sebastien Ogier / Julien Ingrassia | Ford Fiesta WRC | + 20m 51.2s |
| Retired | Esapekka Lappi / Janne Ferm | Toyota Yaris WRC | NA |
The eleventh round of the 2018 World Rally Championship is Wales Rally GB, which takes place on 4-7 October.